Eleven choirs in Princeton, New Jersey, have contributed music for a new Christmas CD to help support WFP school meals initiatives in Africa.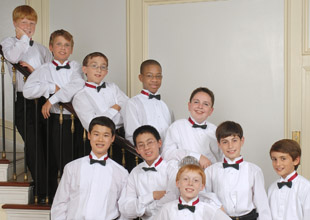 The CD, A Princeton Christmas: For the Children of Africa Vol. 2, is a follow-up to last year's critically acclaimed inaugural album by the richly-talented student choral community.
"A Princeton Christmas CD is a wonderful example of American kindness and generosity during the holiday season," said Karen Sendelback, President and CEO of Friends of the World Food Program.
"Thanks to these choral groups in New Jersey, WFP school meals programs in Africa will continue to reach thousands of children with food and education."
WFP school meals programmes provide healthy meals to children in some of the world's poorest countries. For many of these children, this is the only meal they receive all day.
In 2007, WFP provided meals in school to nearly 20 million children in 70 countries. It only costs $0.25 to provide a meal to a child in school. In some schools, take-home food rations are also distributed for children to bring home to their families. Serving food at school not only targets hunger at its root, it also helps get children into school, providing them with an important key to a better future - an education.
"Last year, the inaugural album raised over $40,000 for WFP and provided more than 160,000 meals to children across Africa," said Tom Meagher, the organizer of A Princeton Christmas and coordinator for the volunteer-based WFP Committee of New York.
"We hope to surpass these figures and continue feeding schoolchildren long after the holiday season is over," he added.