Goma, 16 December 2008 - Gety, a small town the Orientale Province, is bursting at the seams after becoming a refuge for thousands of people displaced by fighting between various militias in Eastern Democratic Republic of Congo.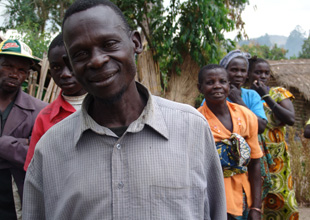 The displaced people are entirely dependent on the hospitality of the inhabitants, most of whom are as poor as their "guests". The town is straining to absorb the new population and as more people arrive there is a growing need for food. It's a common story in these parts.
"We feel safe in this town, but there is no work here and we cannot go home because the militia occupying our village would probably kill us," said Abozo Kandrou Paulen, 46, who walked with his two wives and nine children for four hours from their little farm in Bavi.
He did not know how he could support his family as they had no food, no money to buy food and no means of finding work, since all the locals farmed their own fields and couldn't pay anyone else to do the work.
"The humanitarian crisis in Ituri district hasn't hit the headlines," says Pierluigi Martinesi, who heads WFP's office in Bunia. "But the suffering of people who have fled conflict several times is huge – and we must also relieve the burden on those hosting them."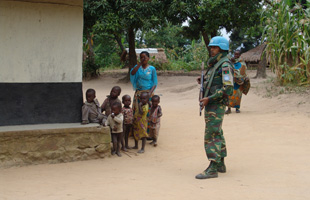 During November, it was too dangerous for most agencies to visit Gety, although WFP managed to deliver food to 150,000 displaced people. In early December, a combined UN mission managed to carry out an assessment there.
WFP first needs to go and see how many people need assistance before it can deliver the rations of maize meal, oil, beans and salt. Because fighting in the region breaks out almost as frequently as downpours during the rainy season, it and other UN agencies have to be escorted by UN forces in Congo (MONUC).

Bernard Matsumu Mbangamda, 24, said his sewing machine, which he had brought with him from Bavi, had been stolen. A militiaman had come to the place where he was staying at night, and threatened to shoot him if he made any fuss. His ability to provide for himself and his wife through tailoring, was gone and he wasn't sure how they would make ends meet.

Matsiosi, 4, like hundreds of other children in the town, does not know what it's like to live in a stable place she can call "home". Until a lasting peace comes, she and her younger brother are growing up in a world of constant movement and fear – with little hope of education or any improvement in their lives.