A UN convoy loaded with humanitarian supplies staggered into the town of Dungu on Monday after an 11-day, 700-kilometre, churn through swampy mud into the strife-torn northeast corner of the Democratic Republic of Congo.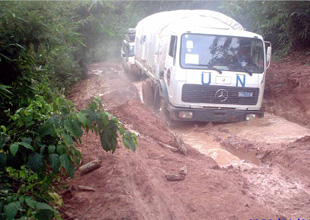 The joint WFP/UNHCR convoy was a trial run to see whether the route can be used to deliver hundreds of tonnes of food suppliesover the next few months. By March or April the next rainy season will have arrived and those rains are expected to shut down the route.
"This was my most difficult trip in my six years as a driver," said Mubarak Andwer Kagoro, 27.
The five trucks and one escort vehicle began their trip in the town of Bunia, a major transshipment point for food and relief supplies. The trucks covered 200 kilometres on the convoy's best day. On its worst day they managed just five.
The trucks were carrying tents, blankets and cooking materials for the United Nations refugee agency UNHCR. They were joined by a WFP 4X4, whose mission was to see whether WFP can use this route to supplement the current air operation flying food into Dungu.
Displaced people
The town, the surrounding area and the area north and east to the borders of Uganda and Sudan, are filled with displaced people who fled their homes in November when soldiers of the Lord's Resistance Army swept in to loot, kill and to kidnap a new crop of children.
With the roads impassable either because of the rains or insecurity, WFP is currently relying on an air bridge from Entebbe, Uganda, to Dungu to reach the displaced and their host families.
But the airlift has proved problematic. It had to be temporarily closed earlier this month while a joint offensive was launched by the armies of the Democratic Republic of Congo, Uganda and South Sudan against the LRA.
Airlift resumed
Last week, WFP distributed almost all the 42 tons of food it had in Dungu to 12,000 displaced people, returnees and host families in Bunia. More is needed before food distribution can begin in the areas outside of town.
The WFP airlift resumed on Monday when an Antonov 26 loaded with 5.5 tons of food arrived from Entebbe. The plane quickly unloaded so it could complete two more round trips the same day and three more in the following days.
In January, WFP will continue to move food by any means available to its tented warehouses in Dungu, one of the main population centres in Orientale Province. WFP estimates there are currently 200,000 displaced people within the province, as well as 20,000 host families who may need food assistance, with a further 80,000 people living in extremely precarious conditions