Who, what and why of WFP's "Fill the Cup" child hunger campaign, including how you can help fill it up.
What is the "Fill the Cup" campaign?
"Fill the Cup" is an international campaign to raise awareness and funds for the 59 million children in the world's developing countries, who go to school hungry.
The campaign slogan and logo is based on the millions of plastic cups that WFP uses to handout porridge or other food rations to millions of school children around the world.
Who are WFP?
WFP is the world's leading emergency organisation, delivering food assistance to an average 80 million people in 80 countries on the frontlines of hunger.
Why did you choose a Red Cup as the campaign symbol?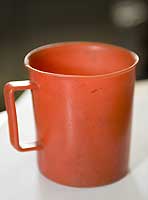 One of the millions of red cups that WFP uses to distribute food to school children.
Shortly after joining WFP in April 2007, Executive Director Josette Sheeran was handed one of the millions of red cups that WFP uses to distribute its free school meals to young children. Scratched on the bottom of the cup was the name "Lily".
Sheeran now never travels anywhere for WFP without a red cup in her luggage. It has become a powerful symbol of the difference that filling a cup with food can make to a hungry child's life.
How can I help the campaign?
The simplest way to help "Fill the Cup" is by making an online donation to the campaign.
Donating 25 US Dollar cents will fill a cup with enough porridge, rice or beans to give one school meal to a hungry child. US$1.50 would feed a child for one week.
What does a "Full Cup" represent?
By supporting the "Fill the Cup" campaign, you can help school children in developing countries in five ways:
Health
Education
Hope
Productive family
Strong community
What does an empty Cup mean?
Hunger
Malnutrition and often disease
Hungry family
No schooling
Weakened community
How much money does WFP need to help all the world's hungry school children?
In the developing world, about 59 million children of primary school age go to class hungry. WFP estimates that it would cost about US$3 billion per year to feed all of them. US$1.2 billion would provide meals for the 23 million hungry schoolchildren in 45 Africa countries.
Nourishing children through school helps to lay a foundation for their future.
Why does WFP focus on feeding hungry children in school?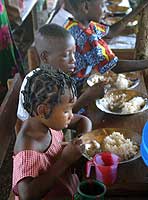 WFP school meals in Guinea
From Bolivia and Kenya to Mauritania and Haiti, WFP's school meals are served up in 70 developing countries. The food serves as a major incentive for poor families to send their children to class. It also helps children to concentrate on their studies.
How many cups is WFP already filling?
WFP provides meals to an average 20 million children in school, about half of them girls, in 70 countries.
Why did WFP choose Milan to announce the campaign?
When Milan made global hunger central to its campaign to secure the 2015 World Expo, Italy's financial capital was a natural choice for WFP to announce the start of "Fill the Cup".
WFP, which is based in Rome, Italy, is the United Nation's lead agency in the effort to meet the UN's first Millennium Development goal: halving the number of hungry people in the world by 2015.
How can WFP Ambassador against Hunger Kaká help "Fill the Cup"?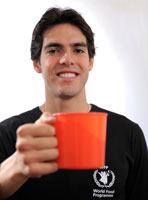 Brazil and AC Milan soccer star Kaká champions the "Red Cup".
Kaká has long believed in the mission of WFP and became our Ambassador against Hunger in 2004. He has witnessed firsthand how hunger can hold a child back and wants to help WFP reach as many children as possible.
As FIFA's World Player of the Year and a key player in Italian soccer club AC Milan's star-studded line-up, Kaká can use his international profile to put the floodlights on "Fill the cup".
He has already helped put the campaign on the map in Italy by dedicating the Milan vs Siena soccer match to "Fill the Cup".