Every day hundreds of Afghan families cross the border at Torkham, a dusty gateway that leads from the life of a refugee in Pakistan to a life of hope in Afghanistan. All they want is to go home.
Every day hundreds of Afghan families cross the border at Torkham, a dusty gateway that leads from the life of a refugee in Pakistan to a life of hope in Afghanistan.
They come by any means available with whatever they can carry. The lucky ones arrive by truck, others come by mule or on foot and those who are unable to walk are carried – even in wheelbarrows. But to them it doesn't matter how they get here. All they want is to go home.
The Pakistani trucks are brightly painted. Every available surface bears pictures of animals and verses of poetry. Perched on top of one such truck is 65 year-old Bibi. She has been living in a refugee camp in Pakistan for the past 25 years. Now her eyes reflect the excitement of coming back home.
Uncertain future
But there is another look too, one of fear. Here with her son, his wife and their four children, none of them know what to expect. "I came back, but don't know where to stay and what to do for a living. But God is great. We will go to Laghman province. I heard that returnees can get land and job there."
Help is close at hand. There is a registration centre near Torkham where the UNHCR (United Nations High Commissioner for Refugees) and other NGOs work to ensure the returnees are ready to start rebuilding their lives.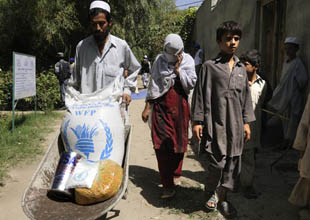 UNHCR and WFP try to ensure returnees have what they need to start again.
The first thing is to get the names of everyone entering the country. Then returnees are told about the dangers of mines and other explosives, which still litter parts of the country. There are health briefings and children receive vaccinations. Finally, each family is given enough money to reach the part of the country where they will settle.
Food, work and education
Some returnees go back to their homes, some find family members and live with them. Those whose homes have been destroyed and have no one to stay with end up in camps. They all face the same challenges of how to get food, work and education.
Some of the answers are found in the projects that WFP (the World Food Programme) and UNHCR can offer. Some programmes provide food in exchange for work on infrastructure projects that will benefit the community. Others give food to returnees to attend training courses to acquire vocational skills. Many of these projects are run jointly with other NGOs.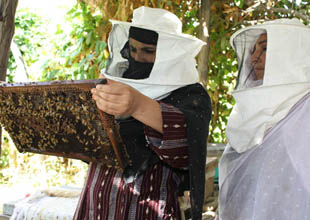 Beekeeping can be a way for returning families to develop a new source of income.
In Laghman, there is a project run by WFP and UNHCR where mostly female groups of returnees are taught how to look after bees. Everyone attending the training receives from WFP a regular ration of oil, wheat, pulses and salt. The honey produced is sold at US$3 per kilo. Some of it is also taken home by participants for their families. At the end of the scheme, each new bee keeper is given a box and some bees. With this, they can build up their stock with the aim of becoming self-sufficient.
Rebuilding infrastructure
Many of the men in the families are involved in construction programmes. In war-torn and battered Afghanistan, much of the infrastructure has been destroyed and in any case more is needed if the country is to develop. In exchange for WFP food rations, the men build canals for irrigation, hydro-power plants, roads and ponds for farming local fish.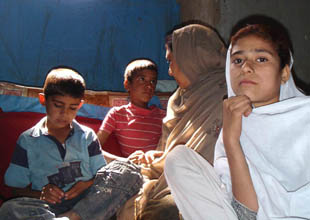 Farida and her family returned to Afghanistan a year ago. They collect and sell rubbish to earn money to buy food.
But there are many returnees who are forced to live in desperate conditions. Farida fled to Pakistan 13 years ago. She returned to Afghanistan last year with her family. They live on the outskirts of Kabul, in an abandoned house which was destroyed during the civil war. Every day her husband and seven children collect rubbish from dumps and surrounding streets. They sell the rubbish to earn a little money. But it is not enough to adequately feed the family.
As well as working, the children try to go to school a little, but they have no notebooks or pens. Farida points at her children, "They went to school on empty stomachs. Now they have come back from school there is still nothing to feed them."