The rise and fall of Chechnya
The people of war-torn Chechnya can still remember when they were not so desperate.
They lived in a land with a soaring local economy, thanks to oil production which peaked at 21 million tons in 1971. Their capital, Grozny, was known as one of the 'Pearls of the Caucasus' and enjoyed direct air and rail links to Moscow and other parts of the Soviet Union. It was a place to be proud of.
Reduced to a shell
Today, Grozny is a shell of its former self. Its buildings are riddled with holes, the result of gunfire and explosions which rocked the city during the 1994-1996 war between Chechen separatists and Russian forces.
When a second war started three years later, the economy went into a tailspin, and oil production plummeted to a mere two million tons a year.
Poverty line
Nowadays, most of the population is unemployed and lives below the poverty line; some 63 percent survive on a mere US$20 a month. It is a tragic situation that requires the help of the international community.
WFP, the only organisation that provides food to the victims of the war in Chechnya, started its emergency operation in the region in January 2000.
To date the agency has supplied over 153,587 metric tons of food for over 330,000 people.
Family backbone
Women are the backbone of many of the families displaced by the conflict in Chechnya. While men have had to leave the region to look for work, or have been detained or killed during the fighting, women have had to ensure that their families are fed and stay intact.
Tatyana Chubrikova spoke to four Chechen women who embody both the tragedy and the strength that define Chechnya today.
"Life does not seem to me hopeless any longer"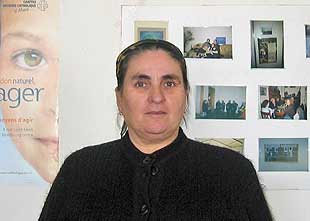 When the first war broke out in Chechnya in 1994, Satsita Sadulaeva and her family fled the bombs exploding all around them for safety in the neighbouring republic of Ingushetia.
It was supposed to be a short-term stay. They left behind an apartment in Grozny, and Satsita dreamed of returning to it and the life she once knew.
In Ingushetia, the family lived for two years on the open plains in a tent for displaced people. Winters were cold and summers steaming hot. When the war ended in 1996, the family quickly packed up their few belongings and headed home.
Dramatic change
They were unprepared for the dramatic change that had taken place. The quiet, tree-lined streets of Grozny, a city that had prospered since the discovery of oil in 1893, had been totally destroyed by the war.
Amid the devastation stood the shelled remains of the family's apartment.
With no guarantee that life in the city would return to normal any time soon, the family moved to a village in the mountains where they had relatives. It seemed safe, and they started to rebuild their lives.
Tragedy strikes again
But tragedy struck again when Satsita's son, Arthur, was seriously injured in an explosion on his way home from school. He has still not fully recovered.
Events started to take their toll on Satsita's mental health, preventing her from finding work to help the family cope financially.
Then, last year, she met a psychologist from the local non-governmental organisation "Women's Dignity", who invited her to attend counselling classes supported by WFP. Every month she attends the course, she receives a WFP food package.
Sharing the pain
"The WFP rations helped us to survive and life does not seem hopeless any longer," explains Satsita.
"Thanks to the classes, I can now share my pain with other women and that has helped me enormously. Now I have the energy to work for my family's well-being."
Psychological pressures
The protracted conflict in Chechnya, which has continued intermittently since 1994, has exposed much of the population to daily psychological pressures related to insecurity, unemployment and the traumas of war.
Women are often the ones to shoulder the burden, as many have lost their husbands and have to take care of their families on their own.
Chechnya, however, has never had a tradition of psychological counselling, and women are not encouraged by society to seek help outside the family.
Dignity and welfare
The WFP food rations have provided an incentive to women to accept counselling as a way of helping them uphold their dignity and ultimately the welfare of their families. A considerable number of those who attend the sessions are widows or the heads of single-parent families.
"There had to be a way out of this nightmare"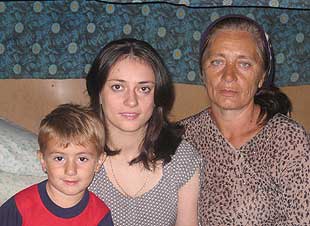 Raya Umarova lived in Grozny with her daughter and two sons. Like many Chechen women, she is strong and proud, with a warm, outgoing personality that hides the tragedies that have shaped her life.
During the first war in Chechnya from 1994-1996, Raya and her family remained in Grozny. They survived the fighting unhurt, but Raya's husband suddenly abandoned them and never returned. Undeterred, Raya managed to find work to support her young family.
Hard-working women
Chechen women are known for being hard workers and family-oriented. Despite having no water or washing powder, their linen is always a dazzling white, and even when food is in short supply, they manage to provide a daily meal for their families.
When the second war broke out in 1999, Raya again decided to stay in Chechnya. But the shelling became so fierce that she was finally forced to flee with her children for the neighbouring republic of Ingushetia.
Completely dependent
By then, many of Chechnya's 1.2 million inhabitants had escaped to safety. Like many of them, Raya and her family left everything behind in Grozny and settled in a tented camp, where they were completely dependent on humanitarian assistance from organisations such as WFP.
Then the tents were taken down, and the displaced people were moved to 'compact settlements' a little like hostels, with one small room for each family and a couple of bathrooms shared by the whole community
New challenges
The days became years and the children grew into adults. Life took on new challenges.
Raya's eldest child, Milana, got married and subsequently gave birth to a baby boy. The family celebrated the marriage and the birth with the hope that one day they would all be back in Grozny.
Then Milana was struck down by cerebral ataxia, which affects muscle coordination. Before long she could no longer move. Learning that his wife was hopelessly sick, Milana's husband deserted the family.
Desperately in need of help
Six years later, Raya is still in the compact settlement in Ingushetia, caring for her disabled daughter and her grandson. When the war in Chechnya ended in 2003, the family had nothing to return to: no home, no money and no jobs. They desperately needed some help.
"I knew that there must be a way out of this nightmare. Then I heard that WFP had started vocational training courses for displaced women in Chechnya," recalls Raya.
Food for work
In exchange for attending classes in hairdressing, sewing or other subjects, each student receives a WFP food package.
On completing a course, graduates receive an official permit enabling them to provide their services to the displaced community within WFP's Food-for-Work programme, under which they are paid with food rations.
Dream into a reality
For Raya, the possibility of being employed again could turn the dream of returning to Chechnya into a reality.
"I want to learn to do something to become self-reliant," she stresses.
"Please keep at least one of us alive..."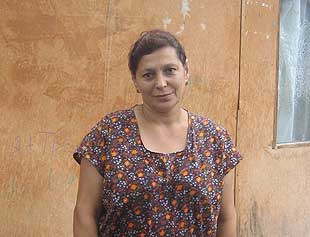 Leila Adiyeva is the youngest of 10 children whose Chechen parents were exiled to Kazakhstan during Joseph Stalin's mass deportation of the entire Chechen nation in 1944.
After their release, they moved to Siberia in the former Soviet Union in the hope that they could earn a better living. But then tragedy struck: Leila's mother died suddenly when she was just one year old.
Destitute, her father took the children back to his native Chechnya, where he also died soon afterwards. Leila and her siblings ended up in Chechen orphanages, where they spent the rest of their childhood.
Happy moments
Life was not easy, but there were happy moments. After finishing school, Leila went to work at a local brickworks as a dishwasher. When she was 19, she met Abdul-Kadir, and two years later they were married.
The newlyweds left Chechnya for Stavropol in the south of Russia to take up cattle breeding, and during the years that followed Leila gave birth to three healthy children.
In 1990, expecting positive changes in Chechnya and new job opportunities, Leila and her family returned to the capital, Grozny. It proved to be a costly decision.
Homemade buns
Rather than growing, Chechnya's economy took a turn for the worse, and with limited chances of employment, Leila's family barely scraped together enough money to pay for their food.
Leila recalls standing outside on the street during the freezing winters, selling homemade buns that she baked during the night. But she also remembers that the family was happy.
1994 war
Then the situation in Chechnya began to deteriorate. When the war began in 1994, it destroyed the lives and hopes of hundreds of thousands of people, including Leila's family.
As the fighting intensified in December 1994, the family decided to leave Grozny by road. They flew a white flag on their car to let the military know that they were civilians and not rebels. But nothing could protect them or their fellow travellers when the air bombardment started.
As the bombs fell, Leila remembers hugging her children and praying to God to keep at least one member of the family alive to bury the others. She never thought that she would be the only one to survive.
Burying the dead
She still can't understand how, injured and only half alive, she acquired the strength to collect her family's remains. But somehow she managed to bury her husband and her three children in Gekhi, her husband's home town.
The shock never left her. She spent the following year in a psychiatric hospital. Luckily, her two brothers were nearby and supported her at first, but later they both went abroad and Leila was left in Chechnya on her own.
Alone she saw the second war begin in 1999, and witnessed once again the horror wreaked by conflict.
Flight to Ingushetia
Like many other people, she fled Chechnya for the neighbouring republic of Ingushetia, and now lives in a settlement of abandoned homes in Karabulak. The only assistance she gets is food aid from WFP.
Despite all the tragedies she has known, Leila smiles. She smiles even when she talks about her family and her children, and then invariably she starts crying.
Now in her mid-forties, she dreams of having her own house, so that she could adopt a baby from an orphanage and set up a small bakery.
Food for training
At the moment, her hope is that when she is psychologically ready she can go back to Chechnya and start WFP's Food-for-Training programme, which she knows can help her learn the skills she needs to find work.
But in the interim she is totally dependent on WFP's monthly food rations. The agency currently assists over 30,000 displaced people like Leila who have been living in Ingushetia for over ten years and have no other means of support.
"We've been living in hell since 1994"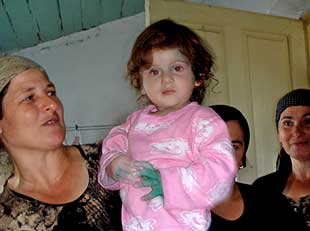 Leila Dudaeva was living in Grozny when the first Chechen war began in 1994. Since then, she believes she has been living in hell.
Initially, she and her family took refuge from the air and artillery bombardments in the cellar of their home, but when the military began house-to-house searches, they started to feel unsafe.
Machine guns
One day, she recalls, soldiers came and randomly fired machine guns into the cellar. The family managed to survive by hiding in a corner. Scared to death, even Leila's one-year old son stayed silent as the soldiers waited upstairs listening for sounds of life below.
That was the final straw. The family immediately packed up a few belongings and fled to Ingushetia, where they eventually found an empty old house in the village of Kuzmichevka.
Muddiest place in the world
This settlement for the displaced people of Chechnya is the muddiest place in the world. Nobody wants to live there. The mud is so deep that in the rainy season people stay indoors all the time, as it's impossible to move around outside.
The children cannot attend school because to wade through the mud to get there takes two hours, and they have no shoes to make the difficult journey. The Chechen government pays a small sum for textbooks for the children who have to be taught at home.
To survive, Leila and her family depend on rations from WFP.
The gate to paradise
Life is certainly not easy. When her youngest daughter was born, Leila decided to call her Rayana, which in Chechen means "the gate to paradise".
She explains that while they are currently living in hell, the family dreams of a better life, and hearing the little girl's name makes them feel they are a little bit closer to reaching it.