Djibouti is used to dry weather but even seasoned pastoralists admit that the rising number of droughts are making their traditional lifestyle tough to sustain. Stephanie Savariaud visits the village of Andoli to see how WFP's Food for Work projects are helping pastoralists diversify for climate change.
With temperatures soaring well over 40 degrees Celsius in the summer, Djibouti is used to dry weather. Everyday for centuries, nomadic herders have walked for many kilometres simply to fetch wood, braving the Khamsin, a hot wind which blows day and night.
These days, however, even the most seasoned pastoralists admit that staying alive in this parched land was a lot easier 10 years ago.
Since 2001, Djibouti has suffered a series of droughts, which have devastated pasturelands that rural herdsmen have traditionally relied on to feed their livestock. In the north, if you ask when it last rained, the answer takes time. "Six months? More, maybe?"
Records show average rainfall over the past five years is less than 15 years ago.
Precarious survival
Life is harder and harder for us. Years ago there were more rains and also more pastureland for cattle.

Anou Amada, farmer, Andoli village
It is becoming increasingly difficult for people in rural areas to live off livestock herding alone; at best, life is precarious; at worst, nomads and their families rely on food aid for survival.
At the peak of the last lean season, the period when food supplies run out before the new harvest is ready, humanitarian organisations estimated that 20 percent of Djibouti's population was food insecure.
In the Northwest, almost half of all families had to migrate to find food for their animals. Those who lost all or most of their livestock, still need help as they struggle to rebuild their lives and support themselves.
WFP is working to improve the nutritional status of the most vulnerable, through its school feeding programme, food assistance to nutritional centres and Food for Work projects like the one in the small northern village of Andoli.
Andoli oasis
Situated on the border with Eritrea, there is no road to Andoli, only open desert with breathtaking mountains on one side and the Red Sea on the other.
In the late 1990s, when people returned to their homes after Djibouti's civil war, Andoli's well and gardens were ruined. By 2000 and with the help of WFP, the villagers had started rebuilding.
Today, nestled amid brown mountains, the village is a small oasis of palm trees, vegetable gardens and a well from which goats and camels can drink. "They allow us to get vegetables here and not to have to go to town for it," says Anou Amada, as he tends the gardens.
As Djibouti's droughts widen, the importance of Andoli's wells runs ever deeper.
"Life is harder and harder for us. Years ago there were more rains and also more pastureland for cattle. Now it is good for us to have functioning wells so that we can keep cattle here," says Anou.
Less fortunate
In less fortunate villages, farmers are having to adapt to survive.
"It is increasingly difficult to be a pastoralist today and a lot of us have to convert to being farmers and growing vegetables," says Elmi Saad, from Doudou Balala in Ali-Sabieh district , southern Djibouti.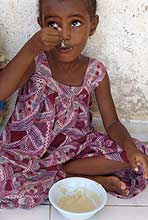 Others are abandoning farming altogether and migrating to the capital Djibouti where they swell the growing ranks of people living in slums on the city's outskirts.
In the current climate, Ali Amadou in Adodaba in Obock district has no illusion about his children following in the pastoralist tradition.
"I have sent my son to school in Obock so that he can do something else. I do not know how to read myself. Hopefully he will keep an interest into what we are doing here, and he will visit and help us from time to time," says the 60-year-old.
Renovate
Many pastoralists say they are now increasingly doing two jobs, and try as much as they can to renovate wells with the help of UN agencies and the Government of Djibouti to keep cattle in the village.
Andoli's well is one of the dozens being renovated through WFP's Food for Work projects and the technical help and support of the Djibouti government and UNICEF.
"WFP couldn't do this alone, so we work with the Ministry of Agriculture and UNICEF to dig wells and the UN Food and Agriculture Organization for vegetable gardens," says WFP Djibouti Country Director Benoit Thiry.
In 2006, a survey showed that out of 876 wells providing non-saline water in Djibouti only 15 percent were equipped with a protective concrete wall to prevent infiltration. Together with the authorities, WFP and Unicef drew up a detailed programme to renovate and protect the wells.
"We are trying to help those who want to stay in rural areas, improving water access and gardens,"says Thiry.
"The shift aims at leaving permanent structures for pastoralists in most projects in partnership with the government and other UN agencies."
Culture
Ali Brahim, 33, returned to Andoli recently and has now decided to stay.
"There are no jobs in town. I came back here, and help in the village as much as I can. I help with the wells, but also in the school, as I am taking care of the parents' association," he says.
"Those people who wish to stay in rural areas should be helped because it's part of our culture, and it is not necessarily worse here than it is in town."