Three years ago, Ntsonyama Sekoai finally summoned up the courage to take an HIV test. For months he had been feeling sick and losing weight. Too weak to work, all he could do was watch as his family grew ever more impoverished and desperate.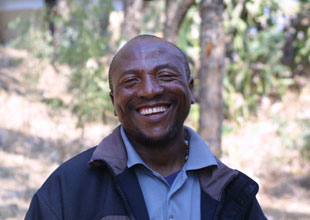 "I guess I knew what the result was going to be because I'd seen the same thing happen to so many people in our community but it still came as a real shock to learn that I was HIV positive," said 44-year-old Ntsonyama.
"All I could think of were my four children and how they would grow up without a father," he said.
Like every other community in Lesotho, Morija, a town to the south of the capital Maseru, has been ravaged by HIV/AIDS. According to the latest estimates, around 22 percent of adults across Lesotho are infected – the third highest prevalence rate in the world.
Along with 1,000 other HIV positive people around Morija, Ntsonyama now receives both anti-retroviral drugs (ARVs) and food assistance under a joint project, involving the government, Medecins Sans Frontieres (MSF ) and WFP.
While the drugs have been primarily responsible for getting Ntsonyama back on his feet, food assistance has played a crucial supporting role.
Not only does the WFP ration provide him with the nutrition needed to take the ARVs but it also acts as a powerful incentive for him to return to Scott Hospital to get his next essential dose of drugs.
"The drugs saved my life but the food also made a huge difference – not just to me but to my whole family," said Ntsonyama.
Knowing that his family will have enough to eat has removed a heavy burden from Ntsonyama's shoulders and given him a real psychological boost.