Gonaives was devastated by recent tropical storms and flooding but WFP and its partners are helping the community get back on its feet.
Gonaives and the rest of Haiti will suffer the effects of Fay, Gustav, Hanna and Ike for months and even years to come. The immediate drama of pulling children and the elderly from rising floodwaters is over, but the challenges are not.
In the aftermath of the storms, the scene is sometimes desolate – mud for miles, rooftops jutting from frozen waves of dirt, children with pleading eyes giving the slit-throat gesture to show their desperation.
"The water was like a wild animal," said one aid worker in Gonaives whose home was destroyed when the fourth storm in as many weeks battered Haiti.
Precarious conditions
Most Haitians were already living in precarious conditions before food prices soared early this year, triggering deadly riots and the prime minister's ouster in April. It was amid these volatile conditions that tropical storms Fay and Hanna and hurricanes Gustav and Ike hit the small island nation.
Artibonite, the department where Gonaives is located, leads the country in the production of rice and other crops. But much of the harvest that might have helped Haitians tackle food shortages lies rotting underwater.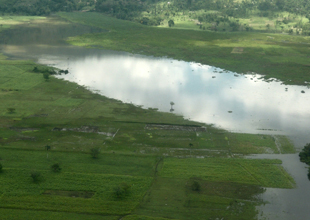 While Gonaives saw the severest flooding, crops and homes are destroyed throughout the country. No department of Haiti was left untouched by the storms.
Saving lives, looking ahead
As colossal as the future challenges are, for WFP and other aid agencies in Haiti, job number one is saving lives. That means getting food, water and other critical supplies to affected families as quickly as possible. Read operational update
'Quickly' has been a challenge with Haiti's roads and bridges initially wiped out by the flooding. Even now large amounts of aid are still moving by helicopter and ship, thanks to the generous support of donors.
WFP Executive Director Josette Sheeran has told Haitian President Rene Preval that WFP is committed to helping improve Haitians' access to food and nutrition. WFP will continue to support the government with social and nutritional safety nets as well as the urgent rehabilitation of roads and schools.
New school year
The storms hit just as school was set to begin – a time of year that always corresponds with the peak of economic hardship for Haitian families. Now classes are expected to start in October – in November in Gonaives. Many schools have been destroyed; most that are still standing are being used as temporary shelters.
"This is just one example of how our plans to collaborate with the Haitian government to build social safety nets are being set back," said WFP-Haiti Representative Myrta Kaulard. "WFP had planned to reach some one million people through school feeding and special take-home rations."
She added: "We must mitigate the damage from these storms – to Haiti's physical infrastructure and to the people's well-being and livelihoods. The international community must step up and we all must join forces to help avoid a slide into deeper crisis."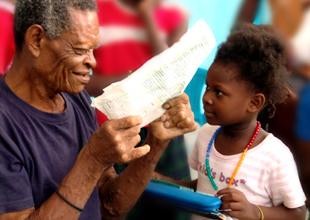 Mathieu, saved from floods in Gonaives, talks to a girl who is also staying in a missionary centre supported by WFP.
At a missionary centre run by Mother Teresa Sisters in Gonaives, children and adults are staying in one of the higher-standing buildings while repair and cleanup continues. One nun said some 60 youths shoveled for 10 days straight to clear away feet of sludge.
Aid workers recently visiting the centre found smiling children gathered around Mathieu, who appears to be in his 60s or 70s. Staff at the missionary hospital carried Mathieu to safety as waters overtook his nearby home.
The children lean on his wheelchair and repeat after him as he recites phrases in Creole. The children laugh and repeat, mesmerised by the animated grey-haired man with gnarled hands. They, like many others, are trying to pick up the pieces of their lives.