Guatemala is slowly getting back on its feet after the devastation inflicted by Hurricane Stan last November. A group of community women seek opportunities and a future in its aftermath.
Finding work, feeding their families and trying to keep their children in school are just some of the challenges facing women in Guatemala in the aftermath of Hurricane Stan. WFP spokesperson Elizabeth Sagastume reports.
Piles of rocks now lie where people's homes used to stand in the town of Tacaná in western Guatemala.
A lot of people are still very frightened, they can not even hear the sound of rainfall

Rafaela Velasquez
Clearing the rocks so they can build new homes is just one of the many tasks facing the townspeople after rains and landslides triggered by Hurricane Stan in October 2005 wiped out crops and hundreds of houses, devastating their livelihoods.
"We are in a very difficult situation at the moment," explains Flora Romero, who is a member of a women's action group in Tacaná.
Slow progress
"We need to work on our land and feed our animals to be able to sell something so we can have some money to buy food," she says.
Some progress has been made. Previously impassable roads to the town, which is in the department of San Marcos, have now been temporarily opened.
Nevertheless, the slowness of rehabilitation and reconstruction is worrisome, especially considering the low winter temperatures which have hit some highland communities.
Tough time ahead
Even though people have banded together to offer each other support and shelter following the disaster, the next six months are expected to be very hard for everyone.
The major problems affecting the communities hit by Stan in Guatemala are access to food and health.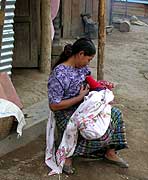 Josefina Romero is a single mother looking for work
Single mothers are particularly vulnerable and are desperate to obtain some sort of income in order to get back on their feet.
This sometimes means leaving their children and their village for a whole day, sometimes even a whole week.
"Everyone is looking to cross the border to Mexico, to work on the coffee plantations in Tapachula," says Marta Obrero Perez, leader of Tacaná's women's group.
Education important
Young girls from the communities also take jobs where possible to help support their families.
However, Perez says mothers would prefer their children to focus on studying rather than work in the coffee fields.
"We want our daughters to go to school and have the opportunities that our parents did not give us because women were not appreciated, but now we are waking up and we know that we have rights and we are very important," said Perez.
Psychological scars
Those who lost everything in the hurricane and its aftermath now rely on humanitarian aid.
WFP Guatemala has implemented the Emergency Food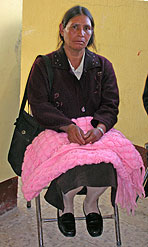 Marta Obrero Perez
Security Assessment (EFSA) to gauge the needs of communities and identify the priorities for humanitarian assistance.
On a deeper level, the unexpected arrival of Hurricane Stan and its immense power, has also left deep psychological scars on survivors.
"A lot of people are still very frightened, they can not even hear the sound of rainfall," says one of the survivors, Rafaela Velasquez.
Building toward the future
"When Stan arrived, we didn't have any electricity or radio, so we didn't know what was happening. The men quickly took control of the situation but for the first time, it was much too big and we were badly affected. Not even [Hurricane] Mitch left us with so much pain and damage," she says.
However, the women of Guatemala have found the strength to set about rebuilding their lives and face the next few months.
"We are looking for support and opportunities. We need training to learn a new occupation or better what little we know. We need seeds to plant our vegetables and water to grow them so we can have our daily food," says Marta Obrero Perez.