Rising food prices mean that the World Food Programme has to pay more for the food it purchases on the open market. If we cannot mobilise extra resources to cover the higher cost of food, then our purchasing power will diminish and we will have less food to feed the hungry.
ROME -- WFP estimates that every 10 percent increase in the cost of our food basket adds an extra US$200 million to our budget for purchasing food commodities. Since November 2010, our costs have risen by 14 percent.
If prices continue to rise, or even stay at the same high levels for the rest of the year, we will face a serious budget gap. We will then be forced to make the kinds of painful decisions that we faced in 2008 – reduce rations, decrease beneficiaries or seek additional resources. Thanks to a few key actions, we have so far managed to limit the impact of rising food prices on our budget and our ability to provide food assistance:
1) Procuring more food on local markets. As WFP procures most of its food on local markets (2.6 million metric tons out of the total of 3.2 million metric tons), the increase in global food prices has not yet had as large an impact as one might normally expect. Half of these local purchases came from least developed or low income countries (eg wheat purchases in Pakistan to feed people affected by last year's flooding.)
2) Forward-purchasing. Forward-purchasing means agreeing with a seller that you will buy food in the future at a certain price. WFP made several deals of this sort in 2010 when prices were relatively low. Thanks to forward-purchasing, there can be a time lag between prices going up and the impact being felt on WFP operations.
3) Pre-positioning stocks. WFP often positions food stocks in places where they will be needed in future. This is another reason why there may be a time lag between prices going up and their effect being felt on operations.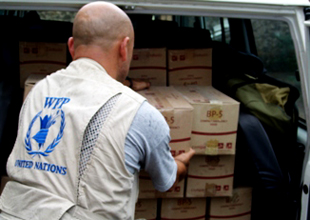 Operational decisions
When the full impact of high food prices was felt during the 2008 crisis, WFP Country Directors found themselves in the unenviable position of having to take operational decisions that included reducing rations, suspending programmes and switching between food commodities (purchasing those that had not risen so high in price).