After last month's earthquake, the mountain communities of Pakistan-administered Kashmir are struggling to survive without food or shelter. With just a few weeks to go before they are cut off by winter, their future hangs in the balance. WFP spokesperson David Orr reports on their urgent need for help.
When Mohammed Noor died in the 8 October earthquake that devastated parts of South Asia, he left behind him two wives and three children. Another daughter, four-year-old Minhas, died alongside him.
Every day her mother, 20-year-old Raheela, visits the little mound of earth that is her daughter's grave, and every time she cries.
Living in a woodshed

Raheela, 20, mourns her four-year-old daughter
With their house destroyed, the two widows and three remaining children now live in a woodshed in the heart of the little hamlet of Nadarjian.
Their community, deep in the Jhelum Valley in Pakistan-administered Kashmir, has been cut off by landslides and the only way in or out is now by air.
WFP and the Pakistan army have been using helicopters to fly in relief supplies to the 5,000 people who live in the village and surrounding mountains.
Mud and rubble
We've been surviving on a little maize and, now that's gone, the children are crying out with hunger


Mohammed Younis
One of those who comes down to Nadarjian in search of food is Mohammed Younis. He lives nearly a day's walk away but, when the family's food stocks ran out, he had no choice but to make the journey. His two wives and 12 children depend on him.
"When our house was destroyed, our food stocks were just mixed in with the mud and rubble," says Younis as he waits to receive the family's first food rations since the disaster happened.
"We've been surviving on a little maize and, now that's gone, the children are crying out with hunger."
Seasonal existence
Like most of the farmers in these mountains, Younis grows maize and keeps a few cattle. Families live in huts on the mountain tops between April and October, then come down to their permanent dwellings to prepare for winter.
But this way of life has been shattered by the earthquake.
Most of the houses in the valley lie in ruins. Almost everyone is sleeping outside, exposed to the elements.
Under snow

A helicopter delivers supplies to Nadarjian
There is already a dusting of white on the higher peaks and, at an altitude of 1,670 metres above sea level, Nadarjian can expect to be under snow by the end of this month.
This leaves a window of just a few weeks for the Pakistani authorities and the humanitarian community to take the action needed to save countless thousands of lives.
As helicopters have limited capacities, blocked roads must be cleared so that the necessary quantities of relief supplies – particularly food and tents - can be delivered. And enough of these supplies must be pre-positioned if the needy are to survive the long, cold winter that lies ahead.
Blasting at the rock
In the nearby Neelum Valley – the epicentre of the earthquake – whole kilometres of road have ceased to exist as a result of massive landslides.
The Pakistan army is blasting away at the rock in a bid to reach those who live at the upper end of the valley. But for the moment, Kamsar is the last point which can be reached by road, and in recent weeks thousands of people from the surrounding mountains have been converging here to receive food from WFP.
Thin blankets

Noor Hussein and his nephew Babar
Among those who recently walked to Kamsar are Noor Hussein and his nephew, Babar, 17, whose father died in the earthquake.
It took them two days to make the journey along a steep mountain path. At night, they slept on the rocky ground with only thin blankets for protection against the cold.
"We're from Jheeng and must wait until it's our village's turn to receive food," says Hussein.
"For the past four days, we've had nothing but maize and some water. Babar has six small brothers and sisters at home and they're now very hungry."
Helicopters overhead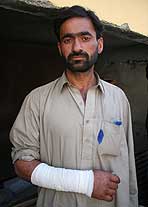 Mansoor Hussein
Mansoor Hussein also came down the mountain to Kamsar. In the days before he set out on his four-day trek, he would gaze skywards and see helicopters flying high overhead. But none landed in his village, Neelum.
At home are his wife, four children and elderly mother; all of them hungry.
"If the road was clear, we could move down to Muzaffarabad," he says. "But there's only the path over the mountains, and that's too difficult for children and old people."
As if to emphasise the point, he displays his bandaged arm, the result of a fall during the journey that could have taken him over a precipice.
Losing touch
Unless things change, a lot of people will die in the villages when winter comes. Normally, we're self-sufficient and we can live in these mountains. But not now, not like this


Mansoor Hussein
Another reason people in the mountains don't want to leave is that they fear losing touch with their communities and livelihoods.
The official and makeshift relief camps for survivors that have sprung up around the towns hold little attraction for independent-minded hill folk, who are accustomed to living close to nature.
"Unless things change, a lot of people will die in the villages when winter comes," says Hussein.
"Normally, we're self-sufficient and we can live in these mountains. But not now, not like this."
Precious cows
With winter cereal stocks already exhausted, families in these mountain settlements have started slaughtering their precious remaining cows for food.
The planting season has been missed because people have been too busy burying their dead, seeking treatment for the injured and searching for the immediate means of survival to think about their crops.
"I wish the world could see what the real situation is," says Hussein. "We are not people who like to ask for help but now we have no choice."