The Jhelum valley in Pakistan-administered Kashmir was shattered by the 8 October earthquake, but two weeks on survivors are beginning to pick up the threads of their broken lives. WFP spokesperson David Orr sent this e-card from amid the ruins.
It is far too early to predict when life will return to normal in the lower Jhelum valley in Pakistan-administered Kashmir.
Two weeks after the most devastating earthquake in living memory struck the region, nearly every building lies in a shattered heap at the side of the road.
Occasional encampments of green or white tents have sprung up in their places, but in parts, whole sections of road have slipped down into the torrent of the river below.
Emergency heliport
Overhead, relief helicopters fly up and down the valley from the emergency heliport that has been established in a football field in Muzaffarabad, the capital city of this province.
Everywhere, people can be seen walking along the roads carrying small bundles of clothes and foodstuffs. Pakistan army mule trains, dispatched in the morning to deliver food to mountain communities, trot back down in the afternoon.
Yet somehow there is a sense that people are coming to terms with the tragedy and are picking up the threads of their broken lives.
Open for business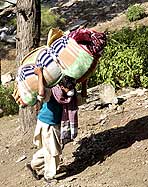 Shops in some villages are open for business, selling all manner of commodities. This is planting time for wheat, and though there is no planting going on, there are a few labourers in the field.
Here and there small groups of women can be seen harvesting rice on the terraces across the river. Buses are loaded with passengers, some on the roof, others clinging to the outside.
"There seems to be less panic than three days ago," says WFP Programme Officer Keith Ursel, after visiting the valley on an assessment mission. "There are fewer food distributions going on and a lot less road traffic."
Piles of clothing
There seems to be less panic than three days ago


WFP Programme Officer Keith Ursel
The only signs of the huge numbers of Pakistani aid convoys that passed through here and other stricken areas in the immediate aftermath of the 8 October earthquake are the piles of clothing that have been rejected and dumped by the roadside.
In the first week or so after the disaster, countless Pakistani non-governmental organisations (NGOs) and volunteer groups visited these parts, giving out relief supplies.
Today, two or three local NGOs can be seen handing out sacks of flour and in one case some clothing, but otherwise there is little visible humanitarian activity.
Loss and deprivation
That is not to say there is no need. People tell terribly familiar stories of loss and deprivation. Just beyond the village of Garhi Dupatta, the WFP team stopped by the roadside and a small crowd gathered.
"Two of my nine children died," says Niaz Mohammed, a wizened man in a dirty shalwar kameez (traditional long shirt and baggy trousers), with an old pink scarf wound round his head.
"Our house was destroyed and I lost eight of my livestock. Our food stocks were ruined when the barn collapsed and the rains came down. Our land suffered a landslide. If we had a bad year in the past, we'd get help from our neighbours, but now everyone has been hit and we don't know where to turn."
House, cattle, land

Another man, Mohammed Ismail, tells a similar story. He lost no family members, but his house, cattle and land – almost everything was destroyed.
Like many farmers here, he kept his animals in a shed under the first-floor living quarters. When the house collapsed, the animals were crushed.
Through broken and crooked teeth, he says he lives in Muri village, which is a walk away up the mountain. He came down into the valley for some food to take home, though all he has bought in the local shops are some pakora (pastry snacks).
His family would like to spend their winter at home but, because they have no shelter, they will have to come down to a camp.
Looking for help
Across the river are a broken bridge, some vehicles and another tented camp. There too, people follow a path, carrying belongings on their head. Large numbers are coming down from their destroyed or damaged hillside homes to look for help in the valley.
As people struggle to salvage their lives and gather whatever supplies they can for their families, the humanitarian operation continues to try to meet their needs.
Rotors turning
On our way back into Muzaffarabad, we passed the heliport where half a dozen mostly Pakistani military helicopters deployed for the emergency were on the ground, some of them with their rotors turning, ready for take-off.
Another helicopter, this one bearing the logo of the International Committee of the Red Cross, was coming in to land. WFP helicopters are also part of the effort; by the end of the week, 11 of them will be operational.
But there is no room for complacency. This is Muzaffarabad, the single largest hub of the humanitarian aid effort, and there are still countless thousands of people out in the remote mountains who have yet to receive any help at all.
Logistical challenges
The UN is making every effort to meet the needs of those whose lives have been devastated by this disaster, but the logistical challenges are considerable.
According to some estimates, as many as three million people have been affected. In Pakistan-administered Kashmir alone, some 150,000 families are believed to be without shelter.
Many of these are scattered in remote villages across a huge area of high-altitude terrain, and road access is often blocked by landslides.
The international humanitarian operation and the Pakistan military are every day deploying more helicopters to fly relief supplies to the needy, racing against time as the Himalayan winter approaches.