Fear and violence hold the people of the fertile Central African Republic hostage to hunger. Marcus Prior travels down a road of charred remains and looks at the great irony: how hunger and plenty can exist side by side.
Fear and violence hold the people of the fertile Central African Republic hostage to hunger. Marcus Prior travels down a road of charred remains and looks at the great irony: how hunger and plenty can exist side by side.
It needed only the sound of our approaching vehicles. The two boys pushing a handcart piled high with produce panicked, sending it into a spin as they threw themselves into the bush.
All we want is peace

Village headman
An upturned bowl of manioc sprinkled its burnt white contents onto the black tarmac. We swerved and passed.
A deep and instinctual fear is gripping vast swathes of the Central African Republic, one of the poorest countries in the world. Terror is being spread through the barrel of a gun.
Volatile
At the heart of a volatile region, the actions of the military, rebel groups, bandits and thugs are pushing more and more innocent people into a living hell.
And in the midst of the chaos, the few aid groups present in the area – including WFP – are struggling to reach the victims.
The two boys and their handcart stocked with food were a telling image – of fear, but also of plenty.
The Central African Republic is a fertile land. Rain falls and rivers flow.
Peace a dull memory
In peacetime, not one of its nearly four million people should go hungry.
But in the densely populated northwest peace is a dull memory.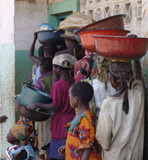 Aid agencies estimate that at least 150,000 people have been displaced by fighting over the past year and are now living in the bush, surviving off dwindling food stocks and the wild fruit and berries that grow around them.
Children are falling ill. Schools are closed. Fields are being left untended.
Wherever we went in the northwest, people fled for their lives at the sound of our approaching convoy.
Few signs of life
Bicycles and pushcarts were abandoned on the road, pots were left steaming on open fires, pigs and goats the only remaining signs of life.
"All we want is peace," the headman of a village several kilometres south of Paoua told us.
Most people fled too fast for us to meet them, but this time we had stopped and waited and slowly, nervously some young men emerged and approached us. We followed them at least one kilometre into the thick forest to find a small settlement of impromptu shelters.
Incomprehension and uncertainty
"Our only politics is farming," the headman said. "We don't understand why soldiers come and fire on us. We've twice tried to go back to the village but both times we have been forced back into the bush by armed men."
The village used to number over 800 people. Now only four of the oldest and most infirm remain. The rest have fled even further into bush than the small group we met.
In a sense, this village was lucky. Unlike many others we passed, it had not been burnt to the ground.
Charred remains
Charred remains along the roadside bore a haunting resemblance to the chilling scenes of devastation not too far away in Darfur – there it was desert, here deep forest.
In the two days before our arrival there had been a several violent engagements along the road we were travelling.
In another village people said their granaries had been deliberately targeted and razed to the ground by attackers, leaving them with barely a grain to survive through to the next harvest which will not come until September 2007.
A few kilometres further on we came across another group of people who again turned to run before they spotted the UN flags flying from the cars.
Danger
They were mourning the death of a 30-year-old woman – her body lay amongst them, wrapped in linen, her young son at her side.
She had died of natural causes, but the villagers complained that it had been too dangerous to take her to the nearest hospital.
They were too scared to move. She died when she might have lived.
Paoua itself feels like a town under siege. So badly has the situation deteriorated that aid agencies there have been forced to stop work by the local military authorities, who say the area beyond the town limits is too dangerous.
Frustration
Fifty-three tons of WFP food, to be distributed by Italian NGO COOPI, currently lies in a local warehouse, far from the mouths of those who need it most.
"I could not be more frustrated for our operations nor more concerned for the people we know are suffering so badly at this time," said WFP Country Director in Central Africa, Jean-Charles Dei.
"Anyone who has travelled into the area knows the truth – we are dealing with a humanitarian crisis which will only get worse if we cannot intervene now. And acting later will cost the international community far, far more," he said.
WFP urgently requires a further US$11 million to continue its operations in Central Africa over the next seven months.