WFP is calling on students, aspiring film-makers and professionals to get creative about world hunger through hunger bytes!, its international video competition. "Creativity and philanthropy are a powerful combination," says WFP Ambassador Against Hunger Drew Barrymore.
ROME – The hunger bytes! competition - hosted by YouTube - encourages people of all backgrounds to submit one or more short videos on hunger.
"We want to take awareness-raising to another level," said Nancy Roman, WFP's Director of Communications, Public Policy and Private Partnerships. "The idea is to inject creativity and innovation into an age-old problem, and generate a buzz on the web and beyond so that people - everywhere - are talking about hunger, and doing something about it."
Last year's winners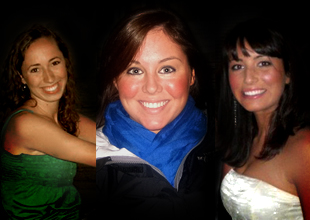 Last year three university students edged out fierce competition, including a professional filmmaker, to win the first-ever hunger bytes! video contest.
To view their video and the others in last year's top five, please visit:
http://www.wfp.org/hungerbytes
To help spread the word about hunger bytes!, download a banner here:
http://www.wfp.org/how-to-help/community/link-us#hungerbytes
"More than a billion people don't know where their next meal will come from, and things are getting worse, not better," Roman said, adding that hunger is at record levels in 2009.
Short videos on hunger
Ideally, the videos people submit - between 30 to 60 seconds in length - will be edgy, unique and provocative in nature. Participants can increase their chances of winning by sharing the link with friends and online communities such as Facebook, MySpace and through blogs.
There will be two categories for competitors – over 18 years of age and under 18. The top 5 videos in each category that receive the most views by December 31, 2009 will be reviewed by a jury led by WFP Ambassador Against Hunger, Drew Barrymore. The prizes go to the winning videos in each category selected by the jury. Winners will either travel to one of WFP's field operations, or for the younger category, win a full web video production kit.
"Creativity and philanthropy are a powerful combination. If you have fun with this, I promise it will have a profound outcome and help save children's lives," said Drew Barrymore. Last year, Hunger Bytes! winners travelled with WFP to Ethiopia where they visited one of the agency's largest food assistance operations.
Poignant and powerful
"You don't need to be a professional to do this. Just put on your creative hat and send us something poignant and powerful – and most of all, thought-provoking enough to incite people to act," said Roman, adding that October 16 is a reminder of the billion people around the world who suffer from the pangs of hunger on a regular basis.
"Hunger bytes!" is part of a broader WFP campaign known as "A Billion for a Billion" which aims to mobilize the online billion internet users to take action and help the billion hungry people around the world.