WFP dispatches two more UN convoys as UN Humanitarian Coordinator calls on IDF to cease all actions hindering supply of relief materials; French airlift due to arrive in Beirut; Greek vessel being loaded up in Brindisi, Italy with humanitarian supplies.
Summary
WFP dispatches two more aid convoys as the UN Humanitarian Coordinator calls on the IDF to cease all actions hindering supply of relief materials. Also: a French airlift takes off for Beirut; Greek ship is loaded up in Brindisi, Italy with vital supplies.
Convoy movements
Today, WFP dispatched a UN convoy of 19 trucks to Sidon (15 WFP – wheat flour, vegetable oil, canned meat; 4 UNRWA). Also 11 trucks from Arida to Beirut (1 WFP with communications supplies, 6 UNHCR, 4 UNICEF).
Yesterday (Sunday) 18 trucks managed to deliver relief supplies to Tyre in addition to 10 trucks to Zahle, the first UN convoys to eastern Lebanon where thousands of people are sheltering and in need of assistance.
Yesterday, there were two serious security incidents which occurred close to our convoy near Tyre. On the way to Tyre, some 15 km north of the city, a van travelling in the opposite direction was hit by a missile, apparently fired from the air. Both occupants of the vehicle were killed.
There was no damage or injuries to the UN convoy. As the empty trucks were returning to Beirut, another vehicle, some 30 metres ahead of the convoy, was hit by a missile. The driver, who was apparently alone in the vehicle, was killed.
The United Nations Humanitarian Coordinator in Lebanon, David Shearer, today called on the Israeli Defence Forces to end its attacks on civilian infrastructure and to cease all actions hindering the supply of humanitarian relief supplies to the hundreds of thousands of displaced people across the country.
Bombardments by the IDF have cut vital supply routes between the north and south of Lebanon. The destruction last week of four bridges on the road from the Syrian border at Arida to Beirut has forced WFP -- which is responsible for transporting all UN relief supplies into and within Lebanon -- to cancel convoys.
Following a rapid survey of the damage, WFP subsequently dispatched convoys which must take a lengthy detour along the old coastal route, tripling the travel time on the heavily congested road between the Syrian border and Beirut.
The supply route from Sidon to Tyre was bombed today and Tyre has now been cut off. WFP is carrying out a reconnaissance tomorrow to look at the feasibility of repairing the damage or finding a new detour.
More air support
The first flight rotation of a French C-160 aircraft (Transal) is due in Beirut from Larnaca, Cyprus today. The aircraft, provided by the French government, is loaded with humanitarian supplies, and will remain on the ground for 45 minutes before returning to Larnaca to make further rotations for WFP and the entire humanitarian community.
C-130 flights ex Italy to Beirut concluded their fourth and last flight today, thanks to support from the Government of Portugal.
Ships in arrival
The French aircraft support is alongside a cash donation announced today by the French government of US$2.55 million to support WFP food and logistics operations.
In addition a ship, carrying meals ready-to-eat, is sailing from Marseilles to Lebanon later this week, and may call in at the UN depot in Brindisi to load further humanitarian cargo.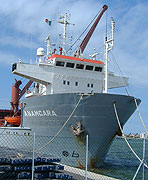 In addition, a Greek vessel chartered by WFP, the MV Anamcara, arrived in Brindisi last night (6 August) and is being loaded today with a variety of cargo destined for Beirut consisting of WFP high energy biscuits (eight tons) and mineral water; for World Vision: 3 trucks, a water purification system, and other non food items; Caritas Lebanon: 2 Ambulances and medicines, donated by the Vatican; tents, blankets, kitchen sets and other non food items from the Italian government for the NGO InterSOS. ·
Another ship, Kazim Genc, is loading at Mersin. She will carry 580 tons of wheatflour and 46 tons of vegetable oil for Lattakia and 2,456 tons of wheatflour, 95 tons of pasta nad 183 tons of pulses for Beirut.
Delivery update
WFP convoys have delivered a total of 404 tons of food, sufficient for 105,000 people for one week. In addition to its own food, WFP convoys carry food and other relief items on behalf of WHO, UNDP, UNICEF, UNHCR, UNRWA and several NGOs.
These have been severely hampered by security and logistical problems, including damaged roads, forcing long detours over difficult terrain, as well as causing mechanical breakdowns.
Tens of thousands of people remain trapped in the region without any outside assistance, while fighting continues around them. They are in urgent need of food, clean water, medical supplies, fuel and shelter.