WFP is currently feeding more than 14.5 million refugees, internally displaced people (IDPs) and returnees in some of the most dangerous and hard-to-reach parts of the globe.
In Pakistan, more than 2 million people have been displaced by fighting in the North West Frontier Province. In Sri Lanka, recent conflict has made more than 270,000 people homeless. And in Eastern Democratic Republic of Congo, more than 130,000 people have fled fighting in recent months.
In Darfur, about 2.5 million people were displaced by the conflict since 2003. All are surviving on food supplied by WFP, working with donors, non-governmental organizations and partners like the UN High Commissioner for Refugees (UNHCR).
World Refugee Day
20 June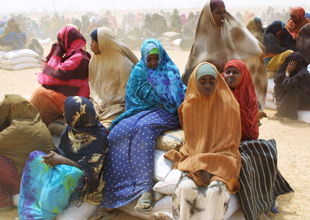 UNHCR's annual 2008 Global Trends report shows the number of people forcibly uprooted by conflict and persecution worldwide stood at 42 million at the end of last year.
The total includes 16 million refugees and asylum seekers and 26 million people uprooted within their own countries.
Natural disasters
But it is not only war that causes displacement. Many are made homeless by natural disasters, climate change and/or social and economic hardship. In Haiti and Myanmar, cyclones and hurricanes have displaced thousands in the past year, while drought and related factors are uprooting families throughout the Horn of Africa.
Often, the host countries are themselves in need of assistance. Ethiopia, a country facing severe drought, is hosting refugees from Somalia, Sudan, Kenya, and Eritrea. And Kenya, battered by high food prices, drought and the effects of civil unrest last year, is itself hosting refugees from Somalia and Sudan.
Returnees
WFP also helps people get back on their feet once they are finally able to return home. For example, in the past four years in southern Sudan, WFP has given a three-month re-integration ration to about one million returnees and provides Food for Work, Food for Training and School Feeding to communities recovering from the 21-year North-South conflict.