We know students want help WFP fight hunger, but we also know donating money isn't always realistic. Luckily, WFP has several ways to help fight hunger that don't cost anything.
It's a tough dilemma to face—you want to help the World Food Programme, but you don't have disposable money to donate. Don't worry—as students, you can be a valuable resource for WFP without spending any cash. Here are five simple things you can do to help:
Add our banner to your blog.
Do you have a blog or website? Pick one of our WFP banners to share on your website. This small action can raise awareness in a huge way by directing your viewers to both learn more about WFP's work and donate what they can.
Find the banners here.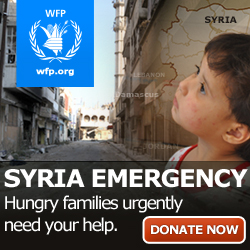 Take a WFP Quiz.
You can feed a child in need by answering just a few quick questions. All you need to do is complete a quiz. Want to learn a little more with each quiz you take? We have a couple of quiz options for you. Remember the hunger facts you learn here, and share them with your friends at school. You'll be helping to raise awareness about WFP's work!
Test your hunger IQ here, and test your knowledge on hunger emergencies here.
Play games at Freerice.com.
Freerice is another great way to show what you know. This time, though, you get to choose from several different subjects—from math to chemistry to geography. For every answer you get right, WFP receives ten grains of rice to help fight hunger. Plus, your teachers will be very impressed to see that you're taking the time to study outside of class! Questions get harder with each one you get right and easier with each one you get wrong.
Play here.
Raise awareness on social media.
There's a good chance that everyone you know has at least one social media account. Where better to spread the word about world hunger than in a place you know all of your friends will be? Get started by following @WFP_Students on Twitter and WFP Students on Facebook to see what we're talking about. There are also facts on our website, ranging in topic from hunger causes to hunger statistics, ready for you to share with your followers.
See some options to get you started here.
Meet Molly and take her quiz.
Molly is a young girl living in a slum in Nairobi, Kenya, who receives school meals from WFP. In 2011, we gave her a video camera to document her life. If you watch her video and answer just a few questions about it, you can feed a child in need.
Watch the video and take the quiz here.