German Formula 1 driver Timo Glock has put his racing helmet up for auction on eBay to raise funds for hungry school children. Bidding started during last week's German Grand Prix and closes at midnight on Saturday, July 18.
BERLIN – Timo Glock is auctioning a helmet that was designed specially for his home race at the Nuerburgring. To bid, click here.
He announced the auction late Saturday at Nuerburgring's World Championship boxing fight between German WBA middleweight champion Felix Sturm and challenger Khoren Gevorgyan. The announcement promoted Felix Sturm to donate his boxing gloves for the same cause.
All proceeds will go to WFP's Fill the Cup Campaign, which aims to raise awareness and funds to feed hungry children all around the world.
Red cup symbol
The auction is the latest initiative in a partnership between his Toyota-Panasonic racing team and WFP, which was launched at the Monaco Grand Prix on May 23. Learn more
Since the start of the 2009 Grand Prix season, WFP's Fill the Cup logo, featuring the distinctive red cup, has been prominently displayed on the nose fins of the cars driven by Glock and team-mate Jarno Trulli.
Glock said the German race was a great opportunity to reach all motorsport fans. "We need as many people as possible to know they can contribute to find a solution to hunger," he said.
"Important race"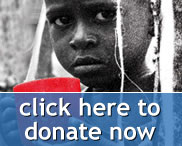 "This is the most important race we can run in today's world - feeding hungry children in time," said Swiss pop star DJ BoBo, a WFP Ambassador Against Hunger, who was at Nuerburgring this weekend to help raise awareness.
He called on millions of racing fans to support the Fill the Cup campaign, noting that it costs only 0.20 € cents to give a hungry child a nutritious cup of porridge.