Canada helps boost production & trade for thousands of grain farmers in Nicaragua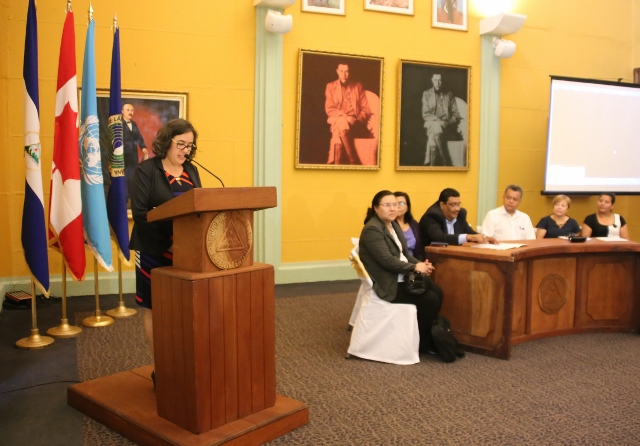 MANAGUA –The Government of Canada has contributed CAD$10 million (about US$8 million) to a joint initiative of the United Nations' World Food Programme (WFP) and the Nicaragua Government to help farmers boost their production and marketing in the north of the country.
The contribution was announced today by Canada's Ambassador to Nicaragua, Ms. Wendy Drukier, at the Ministry of Foreign Affairs with WFP's Deputy Regional Director, Ms. Alzira Ferreira, Ministry of Agricultural, Mr. Edward Centeno, Vice Minister of Ministry of Foreign Affairs of Nicaragua, Mr. Valdrack Jaentschke, co-director of Nicaraguan Institute of Agricultural Tecnology, Mrs. María José Corea, General Secretary of Ministry of Family, Economy, Community, Cooperative and Associative, Mrs. Josefa Torres and producers participating in the P4P.
"Canada believes that one of the best ways to encourage economic growth is through the development of business alliances," said Ambassador Drukier. "This is the aim of this project, to assist smallholder producers to create commercial ties with local businesses, community networks and local structures to boost trade. Canada is convinced that supporting development in Nicaragua also supports the well-being of the region."
The contribution to WFP's "Purchase for Progress - P4P" programme will provide support for up to 3,000 grain farmers from 18 organizations of Nueva Segovia, Estelí, Matagalpa and Jinotega over the next five years and help them strengthen their organization, as well as their production and marketing.
The Ministry of Home Economics, Community, Cooperative and Voluntary Sector, the Ministry of Agriculture and the Nicaraguan Institute of Agricultural Technology implement this programme, which is part of the government's national strategy to promote human development.
With funding from the Government of Canada, P4P aims to help farmers improve their livelihoods through technical assistance, transfer of environmentally-friendly technology, disaster reduction techniques, capacity-building activities and equitable access to equipment and infrastructure following the harvest of small farmers and their organizations.
"We welcome this important contribution from the Government of Canada which will enable us to contribute to boosting both the production and food security of smallholder farmers," said WFP Deputy Regional Director, Alzira Ferreira.
Smallholder farmers account for 90 percent of grain production in Nicaragua. Thus, the program focuses on ending inappropriate agricultural practices, lack of technological inputs, improper handling of the grain after harvest and limited access to markets.
Local purchases of food
One of the methods used by P4P is to leverage WFP´s expertise and purchasing power of food by assisting farmers to helping them to improve the quality and volume of their grain production, while providing links to new markets and raising their competitiveness.
Thanks to the Canadian contribution, WFP will buy corn and beans produced by smallholder Nicaraguan farmers and these purchases will be distributed to the most vulnerable through food assistance programmes.
On the other hand, P4P leads farmer's production by participating in School Feeding´s initiative. Thanks to this link, it will be guaranteed the access to nutritious food to one hundred and fifty thousand Nicaraguan boys and girls in theirs schools.
P4P promotes the empowerment of women and their participation and leadership in farmers' organizations. Through its gender policies, the programme promotes women's participation in management bodies, training courses and access to tools and technology as well as access to credit.
#                              #                                 #
For more information:
Sabrina Quezada Ardila, WFP Communications Assistant, Managua, Nicaragua. Email: sabrina.quezada@wfp.org Tel. + 505 2278-4982. Mob. +505 8930- 2987.
Andrea Vasquez R., Public Affairs Officer, Embassy of Canada, San Jose, Costa Rica. Email: andrea.vasquez@international.gc.ca Tel. +506 2242-4400. Fax +506 2242-4410