Colombia: DSM and WFP Share Successful Nutrition Experiences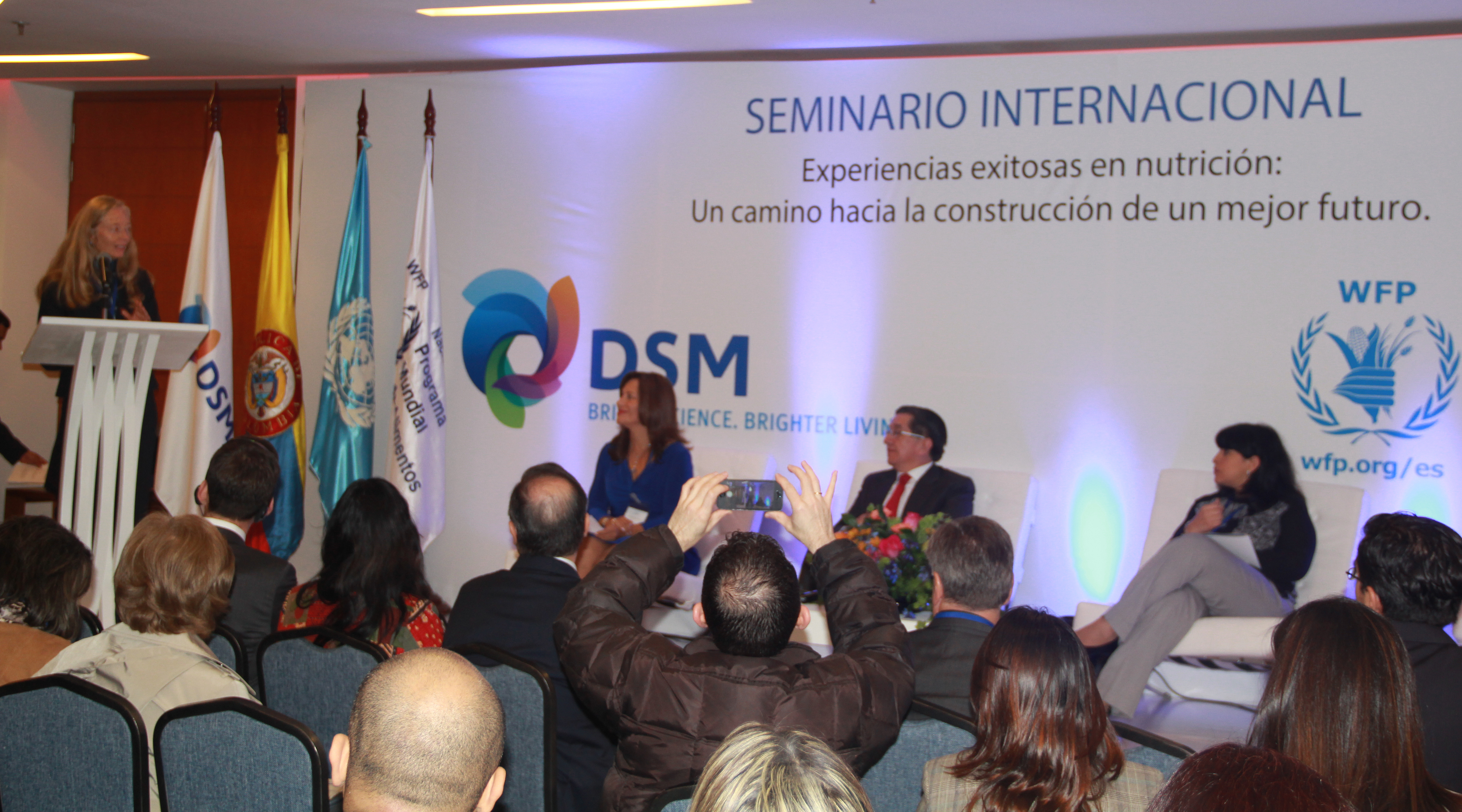 BOGOTA D.C. - Despite improvements in nutrition in Colombia, Latin America and the Caribbean and the word in recent years, further efforts are still needed from all sectors to prevent and eradicate malnutrition in all its forms; undernutrition, micronutrient deficiencies, and overweight and obesity.
According to the latest National Survey on the Nutritional Situation in Colombia (ENSIN 2010, Encuesta Nacional de la Situación Nutricional), these following malnutrition indicators were evident amongst the Colombian population: 
•    Chronic malnutrition: 13.2% in children under five years.
•    Micronutrient deficiency in children under five: Iron deficiency (anemia) rate is 27.5%; reaching up to 60% in children under one.
•    Overweight and obesity in adults: 51.2% of the overall population, a significant increase since 2005, especially in women.
•    Daily consumption of vegetables in the population of 5-64 years of age: 21.7%.
WFP and DSM have teamed up to bring together experts in nutrition for an international seminar in Colombia. Progress, evidence, studies and successful experiences from several countries in Latin America and other parts of the world were on the agenda, with the aim of addressing possible solutions and actions towards the prevention and reduction of malnutrition among the Colombian people.
On 14-15 May 2015 Bogota hosted the international seminar "Successful Experiences in Nutrition, a Path towards Building a Better Future" ("Experiencias exitosas en nutrición, un camino hacia la construcción de un mejor futuro") with the participation of representatives from the government ministries and departments; UN agencies; academia; scientific associations; and civil society.
The following global nutrition experts presented best practices and recommendations: Martin Bloem (WFP, Italy); Daniel Balaban (WFP, Brazil); Anthony Hehir (DSM, Switzerland); Hector Cori (DSM, Chile); Juan Rivera Dommarco (Government of Mexico); Juan Ponce (FLACSO, Ecuador); and Rodrigo Valenzuela (University fo Chile, Chile). From Colombia, these were the national speakers: Ana Maria Angel (Colombian Institute for Family Welfare), Constanza Alarcón (Presidency of the Republic of Colombia), German Jaramillo (Fundacion Exito), and Sonia Liliana Pertuz (National University of Colombia).
Deborah Hines, WFP Representative in Colombia, said that "the successful experiences in nutrition that were shared during the conference emphasized the importance of adopting integral approaches that are multi-sectorial with diverse stakeholders that includes food diversification, including increased consumption of fruits and vegetables, promoting the production of healthy foods, and adopting healthy lifestyles, and promoting local production. A country free from malnutrition is possible."
"Our aim with this seminar is to bring the best nutritional experts from Latin America, take their knowledge and use it as inputs that can be replicated as part of public health policies and interventions at national or regional level," said Soraya Pinto, Director for the Andean Region of DSM.
According to the United Nations, malnutrition, overweight and obesity are a public health issue in Latin America and the Caribbean, and governments, the private sector, academia and civil society must do their utmost to create the tools needed to lower their prevalence.
This integrated focus not only will help achieve a world without malnutrition, but a world with more sustainable patterns of consumption and production.