Colombia: WFP and the Disaster and Risk Management Unit Agree to Strengthen Emergency Response Capacities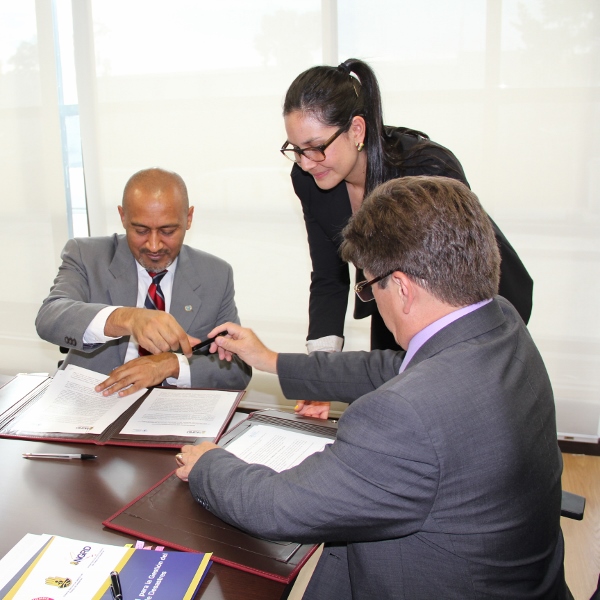 BOGOTÁ – The World Food Programme (WFP) and the Disaster and Risk Management Unit (UNGRD) signed a Memorandum of Understanding this week. Their objective is to establish an alliance to strengthen their capacity to respond to emergencies and generate the exchange of valuable information pertaining to the prevention of and attention to disasters.
The memorandum was signed by the Deputy Country Director, Riaz Lodhi, and the Director of the Disaster and Risk Management Unit, Carlos Iván Márquez Pérez.
"When a humanitarian crisis occurs, WFP quickly assesses the needs of the people and delivers humanitarian aid to the most remote areas. Through this partnership, the Disaster and Risk Management Unit has a partner like WFP to supplement their capacities to assist the most vulnerable Colombians in hard to reach areas", said Lodhi. The WFP Country Director also recognized the work that the Disaster and Risk Management Unit does throughout the country, under the leadership of their Director Carlos Iván Márquez Pérez.
On behalf of the Colombian people Márquez thanked WFP and stated that the signing of this agreement is made with the conviction to join forces and exchange knowledge and experiences to improve emergency response capacity in strategic areas of the country like Magdalena and La Guajira.
During the signing ceremony between the organizations, WFP committed to provide a donation of prefabricated accommodation units- offices and disposable tents- which can be quickly installed in remote areas with limited infrastructure, before or during disasters.
With items donated by WFP, the Disaster and Risk Management Unit finds themselves with additional means to establish situation rooms, improving systems for emergency risk identification, prediction and monitoring in the departments of Valle del Cauca, Boyacá, Norte de Santander, and San Andrés y Providencia.
The Disaster and Risk Management Unit is the entity responsible for the preparedness, the coordination of attention, and response to natural disasters, including floods, droughts, windstorms and adverse effects of clim
ate change. Technical and logistical support is provided by the National System for Disaster and Risk Management (SIGPAD).
In order to save lives and protect livelihoods during emergencies, WFP supports governments in the strengthening of their capacity to be prepared and respond to emergencies, as well as the capacity to respond to nutritional insecurity.
The World Food Programme (WFP) is the United Nations Systems agency forerunner in the realm of Logistics and the leader in emergency telecommunications. WFP co-leads the Committee on World Food Security (CFS).
WFP provides technical assistance in the areas of early warning systems, contingency planning, mapping and analysis of food insecurity (also known as VAM), managing humanitarian assistance, and emergency stocks; storage and distribution systems, and the circulation of humanitarian goods.