Cross-Border Convoy Moves Food Aid Into Northeast Syria As Access Constraints Intensify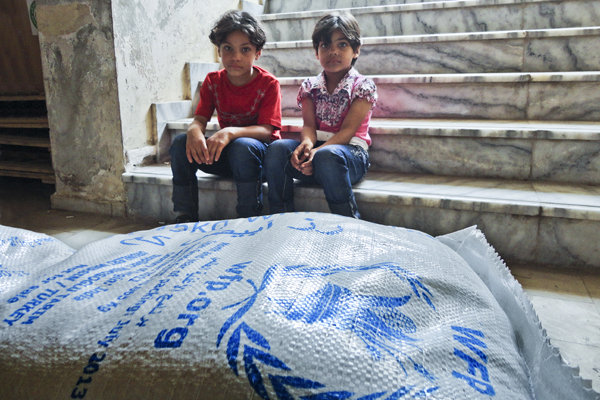 AMMAN – The United Nations World Food Programme has started moving more food supplies from Turkey into northeast Syria through the Nusaybin border crossing point to assist displaced families cut off from food supplies in Al-Hassakeh governorate.
•    A convoy of 34 trucks carrying 796 metric tons of food including sugar, lentils, rice, bulgur, tomato paste, beans, vegetable oil, pasta, salt, and wheat flour – enough to feed 58,000 people for one month – left Wednesday and will deliver urgently needed food assistance over the next few days.
•    The convoy is also carrying 10 temporary warehouses to augment WFP food storage capacity in Qamishli, from where food is dispatched and distributed all over the governorate.
•    In late March, food stocks for 50,000 people were delivered to Qamishli as part of an inter-agency, cross-border convoy carrying various forms of humanitarian aid.
•    Through WFP's NGO partners, all food rations brought into Syria on the March convoy have been distributed to displaced people in towns and villages across Al-Hassakeh governorate including, Qamishli, Al-Hasakeh, Al Shaddadi, Hilwe, Tal Tamer, Al Hol, Ras Al Ain, Derbasiyeh, Amouda, Tel Hamis, Tel Barak, Al-Malikiyeh and Jwadiyeh. The rations, originally intended for 50,000 people, have reached more than 90,000, as partners have resorted to splitting rations to cover the needs of a larger number of people.
•    Despite continued access challenges, WFP has been able to conduct 38 monitoring visits in Al-Hassakeh governorate since the beginning of the year in both rural and urban areas.
•    WFP food assistance reached 3.9 million people in Syria in April, compared to a record 4 million inside Syria reached in March, because fighting prevented food deliveries to Ar-Raqqa and Deir Ezzor.
•    Some of the areas already hard hit by the conflict– mainly Aleppo, Idleb and Hama in the northwest of Syria – are also facing a looming drought, with rainfall less than half of the long-term average. This will have a serious impact on the next cereal harvest and the food security of people in this area.
•    WFP needs to raise US$41 million dollars every week to meet the food needs of Syrians affected by the conflict in Syria and in neighbouring countries.
#                              #                                 #
WFP is the world's largest humanitarian agency fighting hunger worldwide. On average, WFP reaches more than 90 million people with food assistance in 80 countries each year.
 
Follow us on Twitter @wfp_media  and @wfp_mena
 
For more information please contact (email address: firstname.lastname@wfp.org):
Abeer Etefa, WFP/Damascus, Mob. +20 1066634352. Tel. +202 2528 1730 ext. 2600
Dina El Kassaby, WFP/Damascus, Mob. +963 958 882 303 or +962 7 9867 4638
Laure Chadraoui, WFP/Beirut-Amman, Mob. +962795915230 and +9613489925
Jane Howard, WFP/Rome, Tel. +39 06 65132321, Mob. +39 346 7600521
Elisabeth Byrs, WFP/Geneva, Tel. +41 22 9178564, Mob.  +41 79 4734570
Bettina Luescher, WFP/New York, Tel. +1 646 5566909, Mob. +1 646 8241112