Donor Support Allows WFP To Extend Africa Disaster Insurance So Risks Are Managed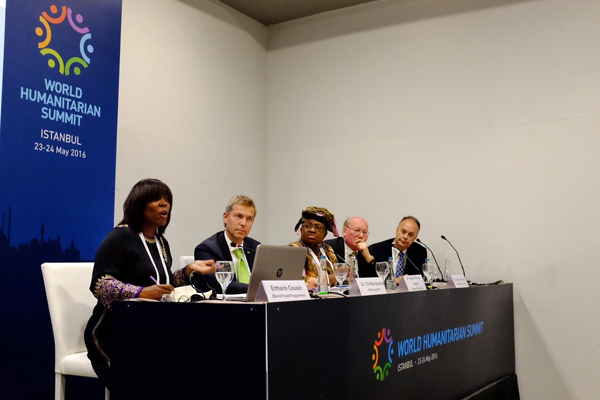 ISTANBUL – The United Nations World Food Programme (WFP) says that it will extend disaster insurance coverage to more African countries to help transform how they cope with drought and floods – from responding only after disasters strike to managing the risks before.
Investment in early response and risk management are humanitarian finance reforms being considered at the World Humanitarian Summit in Istanbul, where WFP announced that an innovation commitment of US$1.6 million from the Government of Denmark will be used to support the African Risk Capacity (ARC) Replica insurance policies.
In order to provide Replica coverage to more countries, WFP will also receive the support of the European Commission's Directorate-General for International Cooperation and Development, which says that it especially appreciates the role ARC can play in building and enhancing people's resilience to food shocks, in cooperation with governments.
"WFP is transforming the way we assist vulnerable communities to cope with natural disasters, from disaster response to risk management," said WFP Executive Director Ertharin Cousin. "Countries themselves need to own and manage their disaster risk first and foremost."
"Early and predictable response saves lives and livelihoods," she added. "Insurance is one of the most powerful ways of helping governments and WFP to respond to the needs of vulnerable people, enabling them to bounce back from shocks."
"Transforming how the humanitarian system is financed will not happen overnight. Full replication could take years. From Istanbul we are calling on humanitarian donors to invest in early response. It's a win-win for all," said Dr. Ngozi Okonjo-Iweala, Chair of the ARC Agency Governing Board.
WFP helped the African Union to create a sovereign disaster insurance pool, ARC, in 2012. A total of 32 African states have signed the ARC treaty and ARC has insured seven countries over the last two years with coverage of over US$300 million.
For countries that have demonstrated their long-term commitment to this mutual insurance system by renewing their policies for the third year running, WFP will help scale up these efforts by taking out matching policies, replicating the countries' own efforts.
In so doing, WFP aligns its financing and operational response with government-led efforts, doubling the coverage available to vulnerable people. WFP, by supporting ARC's Replica policies, can help ARC insurance reach 150 million people by 2020 and contribute to the Elmau G-7 Climate Insurance targets of 180 million people protected in Africa by 2020.  By 2030, WFP aims to have insurance finance for half its overall natural disaster aid expenditures in Asia as well as in Africa.
In addition to WFP, the START Network, a consortium of Non-Governmental Organizations, is looking to launch Replica in partnership with ARC and its member states.
Donor contributions will now allow WFP to pay premiums for replica insurance policies in African countries, allowing the organization to match insurance policies already taken out by governments to respond early to drought and floods and doubling the number of people covered.
Early response makes economic sense. With donor resources stretched to the limit and humanitarian needs only increasing, investing in shifting the humanitarian system from responding late to disasters to one that manages risk and is predictably financed could save billions of dollars a year over time. It could also improve the impact of donor investments as affected countries can increase their own capacity to manage increasing droughts and floods.
#                              #                                 #
About the World Food Programme
WFP is the world's largest humanitarian agency fighting hunger worldwide, delivering food assistance in emergencies and working with communities to improve nutrition and build resilience. Each year, WFP assists some 80 million people in around 80 countries.
About African Risk Capacity Agency
The African Risk Capacity (ARC) was established as a Specialized Agency of the African Union to help AU Member States improve their capacities to better plan, prepare and respond to extreme weather events and natural disasters. The objective of the ARC is to assist AU Member States to reduce the risk of loss and damage caused by extreme weather events and natural disasters affecting Africa's populations by providing targeted responses to disasters in a more timely, cost-effective, objective and transparent manner. For more information: www.africanriskcapacity.org
For more information please contact (email address: firstname.lastname@wfp.org):
Gerald Bourke, WFP/Istanbul – New York Mob. +646 525 9982
Frances Kennedy, WFP/Rome, Tel. +39 06 6513 3725, Mob. +39 346 7600806
Gregory Barrow, WFP/London, Tel +44 7508 868 997, Mob. +447968008474