Ecuador: UN and FLACSO Organize Debate about Climate Change and Sustainable Development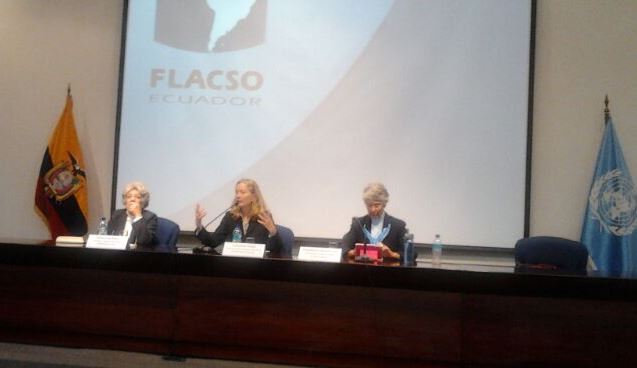 The climate change challenges for the Post-2015 Development Agenda were discussed in Quito in a panel moderated by the Representative of the United Nations World Food Programme in Ecuador, Deborah Hines.
QUITO. --This happened in an event organized by the United Nations Secretariat for the Post-2015 Development Agenda and the Latin American Faculty of Social Sciences (FLASCO) to facilitate the discussion, in the Latin American academic community, of the report from the representatives from the High Level Panel organized by the UN about the Post-2015 Development agenda. 
Besides academics, national authorities, UN officials, and diplomatic representatives attended the FLASCO chamber. The discussion counted with the participation of Yolanda Kakabadse, who is president of the World Wildlife Fund, and Gisela Alonso, who is an environmental expert in Cuba and one of the 27 participants of the UN High-Level Panel.
The title of the report developed by the Panel and which was discussed in Quito is "A New Global Partnership: Eradicate Poverty and Transform Economies Through Sustainable Development." It proposes to reach 12 goals and 54 objectives aimed to eradicate poverty, provide quality and permanent education, healthy lives, food security, and universal access to water.
In the Quito panel about the climate change and sustainable development, the WFP Representative emphasized that during 20 years the international community has tried to integrate the three social, economic, and environmental dimensions to sustainable development, and today there is the possibility to add climate change, in both mitigation and adaptation, in the Post 15 Agenda.
The panel discussed about the necessity of taking into account the climate change implications towards achieving the Post 15 Agenda goals. Climate change threatens poverty reduction in countries where development depends on agriculture and resources that are sensible to climate, which can impact livelihoods, food security, and the availability of opportunities for the most vulnerable to escape poverty. Water scarcity, degradation of ecosystems and biodiversity, and high food prices are impacts that particularly affect women and families that are vulnerable in the short run. About the food issue, Yolanda Kakabadse pointed out that 43% of packaged foods are wasted.
The case of Ecuador was pointed out as an example of the negative impacts of climate change, with frequent and intense events such as droughts, floods, wild fires, landslides, and glacier retreat. This is the time, for Ecuador and the rest of the world, to build resilience in the most affected communities by combining forces to adapt to climate change through risk and disaster reduction and work favoring food and nutrition security, always with a focus on gender.