El Niño, Drought Blamed As Severe Food Insecurity Doubles In 6 Months In Haiti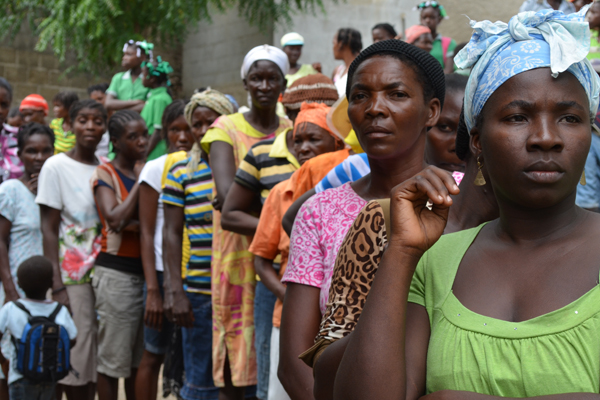 PORT-AU-PRINCE – Haiti's third consecutive year of drought, exacerbated by the global El Niño weather phenomenon, has driven people deeper into poverty and hunger, and doubled the severely food-insecure population, the United Nations World Food Programme (WFP) said today.
Some 3.6 million Haitians are facing food insecurity, among them more than 1.5 million people who are severely food insecure. This was a key finding from an Emergency Food Security Assessment (EFSA) conducted by WFP, the Food and Agriculture Organization and National Food Security Coordination.
The main 2015 harvest fell below average with losses of up to 70 percent in some areas. This is a severe blow to food security in Haiti, where agriculture employs half of the working population and 75 percent of people live on less than US$2 per day.
"Without rain for the 2016 spring season, farmers will lose their fourth consecutive harvest on which they normally depend to feed their families," said Wendy Bigham, WFP Deputy Country Director in Haiti. "We need to help them meet their immediate needs and help build up their resilience."
The current El Niño, which began in early 2015, is one of the strongest on record and is affecting the food security of vulnerable people around the globe.
In some areas of Haiti, up to 70 percent of the population is facing hunger and a recent study conducted by UNICEF and the Government revealed that in several communes, malnutrition rates are above emergency levels.
Based on the results of these new studies, WFP intends to scale up its food assistance programmes to address the most critical and immediate needs of 1 million drought-affected people by distributing cash and food rations.
WFP will complement the immediate distributions with Cash-for-Assets programmes. In these, 200,000 Haitians are paid in cash in exchange for work on watershed management and soil conservation projects to improve local infrastructure for long-term development. WFP has already implemented Cash-for-Assets projects for 30,000 Haitians in areas worst hit by the drought.
In coordination with the Government, WFP has been distributing food to about 120,000 Haitians since November in areas worst affected by the drought. A two-month food ration feeds a family of five and includes such basic food items as rice, pulses, oil, sugar and salt.
In addition, WFP-supported School Meals programmes in Haiti – many in drought-hit areas – provide crucial support to almost 500,000 children by ensuring that they receive at least one meal daily, while at the same time encouraging them to attend school.
WFP's assistance to families is essential until at least the next harvest, expected in July 2016. To meet basic needs of 1 million Haitians, WFP, which is funded entirely by voluntary contributions, requires US$84 million.
#                              #                                 #
WFP is the world's largest humanitarian agency fighting hunger worldwide, delivering food assistance in emergencies and working with communities to improve nutrition and build resilience. Each year, WFP assists some 80 million people in around 80 countries.
Video footage is available on request -- please contact Jonathan Dumont: jonathan.dumont@wfp.org
Follow us on Twitter @wfp_media
For more information please contact (email address: firstname.lastname@wfp.org):
Lorene Didier, WFP/Port au Prince, +509 3800 4976
Bettina Luescher, WFP/Geneva, Tel. +41 22 917 8564, Mob. + 41-79-842-8057
Jane Howard, WFP/Rome, Tel. +39 06 65132321, Mob. +39 346 7600521
Gregory Barrow, WFP/London, Tel.  +44 20 72409001, Mob.  +44 7968 008474
Gerald Bourke, WFP/New York, Tel. +1-646-5566909, Mob.  +1-646 525 9982