Emergency Food Assistance Reaches People Displaced By Violence In Central African Republic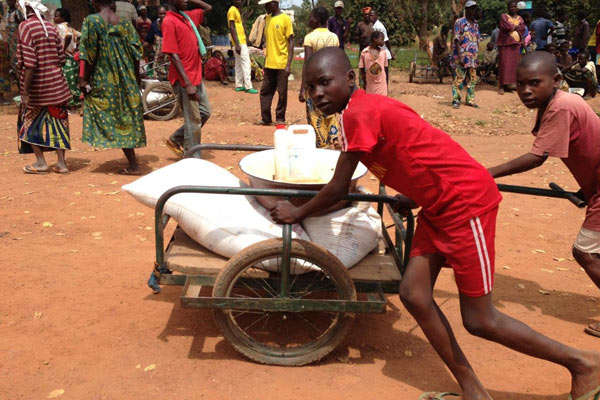 BANGUI– A joint rapid assessment in the Central African Republic (CAR) found that more than 60,000 people have been displaced after renewed violence erupted on 5 December and that food is a priority. To respond to immediate needs, the United Nations World Food Programme (WFP) is providing food assistance to affected people across the capital, as well as in Bossangoa to the north-west.
"The humanitarian situation in the Central African Republic remains critical and will worsen as people continue  to be affected  by violence. WFP together with partners, needs to be in the front line to provide support and assist the most  vulnerable," said Guy Adoua, WFP Deputy Country Director.
Despite security constraints, WFP response includes:
•    WFP provided food assistance to more than 19,000 people in Bangui during the first three days.
•    Cooked meals are being provided to patients at the Community Hospital and the Castor Hospital. A dry food ration was distributed at sites where displaced people had gathered.  
•    Food rations include maize meal or rice, beans, vegetable oil and salt and provide the necessary nutritional intake of 1,818 Kcal/person. Rations are provided to cover the beneficiaries' food needs for 10 days.
•    Last week, the International Committee of the Red Cross (ICRC) provided food rations at  four sites in Bangui. WFP has since taken over the food response at these locations.
•    In Bossangoa, activities were disrupted for  four days by the most recent wave of violence, however assistance has since resumed. On Monday, WFP provided food to over 2,000 people and is continuing distributions.  Already this year, WFP has reached 35,000 displaced persons in the Bossangoa area.
•    In 2013, WFP has assisted nearly 430,000 people in total across the country, of which 125,000 are displaced persons.
•    In areas where WFP offices are not yet operational, mobile teams are being used to reach beneficiaries.  
•    WFP manages the UN Humanitarian Air Service (UNHAS), which is the sole means of transport for the humanitarian community to reach most parts of CAR, which are inaccessible due to poor roads and a lack of basic infrastructure. UNHAS flies to 27 locations in the country; to support the humanitarian response, flight connections between Bangui and Douala (Cameroon) have begun. In 2013, UNHAS has ensured transport for some 8,000 passengers from more than 65 organizations which rely on UNHAS for travel across CAR.
•    WFP has a Logistics and Emergency Telecommunication project which aims to boost telecommunication capacities in CAR and to step up WFP's transport capacity, so that WFP and partners organisations will have reliable access to beneficiaries by road.
•    WFP estimates the cost of the operation for 2014 at around US$60 million. Out of this, US$47 million is required to support 781,000 beneficiaries in 2014 through food security, nutrition and emergency school feeding activities; US$3.6 million is required for logistics and telecommunications support and US$9 million to provide air support to the humanitarian community.
#                              #                                 #
WFP is the world's largest humanitarian agency fighting hunger worldwide. Last year, WFP reached more than 97 million people in 80 countries with food assistance.
Follow us on Twitter @wfp_media @WFP_WAfrica
For more information please contact (email address: firstname.lastname@wfp.org):
Gregory Barrow, WFP/London, Tel.  +44 20 72409001, Mob. +44 7968 008474
Elisabeth Byrs, WFP/Geneva, Tel. +41 22 917 8564, Mob. +41 79 473 4570
Bettina Luescher, WFP/New York, Tel. +1-646-5566909, Mob. +1-646-8241112