Empowering Women Will End Hunger: Celebrating Women's Role In Meeting The Zero Hunger Challenge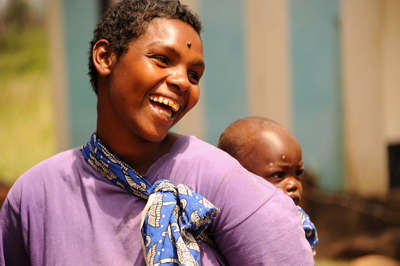 ROME – Every year, the United Nations World Food Programme (WFP) provides more than eleven million schoolgirls with food to help keep them in education and around three million vulnerable women with special nutritional support. This year, on International Women's Day (March 8), WFP is celebrating how empowering women can boost global efforts to end hunger.
"Giving women the power to make choices over their lives is one of the first steps towards a world with zero hunger," said WFP Executive Director Ertharin Cousin. "In every country where WFP works, women are front and centre in programmes to tackle the problems of food insecurity and undernutrition. We work with women farmers, traders, nutrition workers, school cooks and we serve millions of schoolgirls, pregnant women and nursing mothers."
This year's United Nations theme for International Women's Day stresses that "Equality for women is progress for all." One example of a WFP programme that focuses on women's advancement is Purchase for Progress, or P4P, an initiative that helps smallholder farmers, particularly women, become competitive players in the marketplace by producing food for sale and use in WFP programmes.
At P4P's annual consultation this year, Mazouma Sanou, a 43-year-old farmer from Burkina Faso, and member of a P4P-supported cooperative, explained how she grows maize, sorghum and cowpeas. Mazouma works as a field monitor paid by WFP and Oxfam to coach 25 rural women's groups, showing them how to increase production and earn more.
A mother-of-three, she also discussed how to increase women's say in the family. "Women have to help educate their husbands," she said. "Dialogue can certainly change attitudes, but you can't command people to do things."
Some 200,000 women have been trained in various capacities during the P4P pilot programme, and women's participation has tripled since the beginning of the initiative. However challenges remain. While more than half of the members in Mazouma's farmers group are women, only 22 percent of the money from the group's sales to WFP went directly into women's hands.
A report by WFP's sister agency the Food and Agriculture Organization estimated that closing the gender gap in agriculture by giving women farmers more resources could bring the number of hungry people in the world down by more than an estimated 100 million people.  The State of Food and Agriculture 2010-2011 report found that women lacked access to land, credit, tools and seeds that could boost agricultural production.
#                              #                                 #
WFP is the world's largest humanitarian agency fighting hunger worldwide. On average, WFP reaches more than 90 million people with food assistance in 80 countries each year.
Follow us on Twitter @wfp_media
For more information please contact (email address: firstname.lastname@wfp.org):
Emilia Casella, WFP/Rome, Tel. +39 06 6513 3854, Mob. +39 347 9450634
Gregory Barrow, WFP/London, Tel.  +44 20 72409001, Mob.  +44 7968 008474
Elisabeth Byrs, WFP/Geneva, Tel. +41 22 917 8564, Mob. +41 79 473 4570
Bettina Luescher, WFP/New York, Tel. +1-646-5566909, Mob.  +1-646-8241112