Enhancing Resilience And Self-Reliance In Crisis Affected Yemeni Communities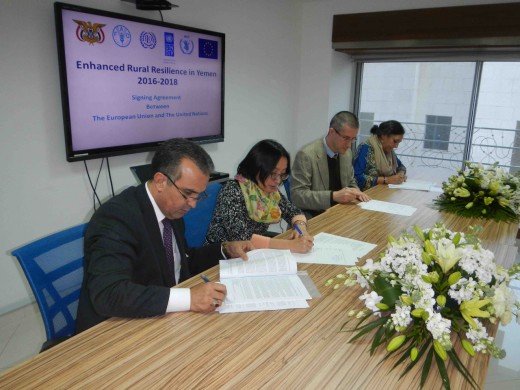 15 December 2015, Amman - The European Delegation to Yemen and representatives from the United Nations Development Programme (UNDP), the Food and Agriculture Organisation (FAO), the World Food Programme (WFP) and the International Labour Organisation (ILO) yesterday signed an EU-supported Joint Programme entitled "Enhancing Rural Resilience in Yemen" (ERRY).
The overall objective of the Joint Programme is to enhance the resilience and self-reliance of crisis-affected rural communities through support to livelihoods stabilisation and recovery, local governance and improved access to sustainable energy. ERRY will achieve two outcomes: (i) Communities are better able to manage local risks and shocks for increased economic self-reliance and enhanced social cohesion, and (ii) Institutions are responsive, accountable and effective to deliver services, build the social contract and meet community identified needs. The Joint Programme will be implemented over 3 years in coordination with the Ministry of Planning and International Cooperation and targets four Governorates. It is financed by the European Union for a total budget of EUR 34.8 million, building on the strength of the respective participating UN agencies.  
"Yemen's most vulnerable sectors of society bear the brunt of the current conflict. The EU and four UN agencies have teamed up in a unique partnership to assist rural populations in the most affected provinces to help with improving food security, social protection and services. We will do this together with local authorities, Yemeni civil society and the private sector - all of whom stand to benefit from this programme. 
EU Head of Delegation Muscheidt added: "This programme will do its part to lay the ground work for peace and stability in Yemen. It is a significant coincidence that at its signature peace talks on Yemen resume: Yemenis now need a comprehensive, durable ceasefire to facilitate implementation of much needed development programmes. Yemen's people and the plight of the poorest and most vulnerable should be at the heart of the negotiations." 
 According to Salah El Hajj Hassan, FAO Representative in Yemen, this EU funded program will enable FAO to enhance the independence of farmers by promoting sustainable value chains and will further promote FAO's flagship "Farmer Field Schools" to increase the farming and production capacities, and help in framing a commercial oriented production. He added: "our intervention will have a multiplier effect that will maximize the reach throughout the program. We will be working on behaviour change in agriculture, by introducing new techniques and best practices." 
ILO Coordinator Patrick Daru said: "This programme is an important step for the upcoming reconstruction efforts in Yemen not to focus only on asset rebuilding - but on livelihoods and decent work. It will rely on the great capacity of Yemen people to bounce back from the conflict and build back their lives. The programme will also in turn contribute to sustain peace efforts."  
"We are proud to coordinate and participate to this unique joint programme, and to provide much needed employment opportunities, sustainable energy for communities and mend the disrupted social fabric through social cohesion. Building resilience for affected communities to stand back on their feet is the premise to recovery and reconstruction, and to offer a better future for the country," said Ms. Mikiko Tanaka, UNDP Yemen Country Director. "The hardships have particularly hit vulnerable groups such as women-headed households, UNDP will ensure that its interventions are inclusive and contribute to a restoration of hope."
"While tending to the immediate and urgent food needs in Yemen WFP is also working on empowering vulnerable families through development projects that go hand-in-hand with delivering relief. WFP will launch a cash-for-work activity to help vulnerable families rebuild their lives and livelihoods. More than 13,300 people in four governorates will benefit of this project throughout 2016 and 2017," said Purnima Kashyap, Representative and Country Director of WFP in Yemen. WFP will also offer support to local partners to rehabilitate community assets. 
The legal documents were signed in Brussels by Ms Bettina Muscheidt and in Amman by Ms. Mikiko Tanaka (UNDP), Mr. Salah El Hajj Hassan (FAO), Ms. Purnima Kashyap (WFP) and Mr. Patrick Daru representing ILO.  
For     more     information,     please     contact     Ms.     Farah     Abdessamad,     UNDP     Yemen     Programme     Specialist (farah.abdessamad@undp.org) or EU Delegation to Yemen's contact: claude.noyelle@eeas.europa.eu