The EU And WFP Launch A Project To Fight Child Labour Through Education In Egypt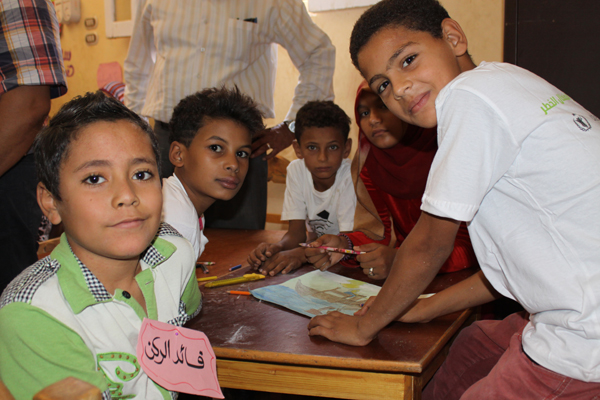 BRUSSELS/CAIRO – The European Union (EU) and the United Nations World Food Programme (WFP) today launched a €60 million project to combat child labour and improve access to education for children who are at risk of entering the labour market.
"The EU is delighted to join hands with WFP to work on combating child labour, with a particular emphasis on girls' access to education," said Ambassador James Moran, Head of the European Union Delegation in Egypt. "We look forward to working closely with the Government of Egypt, civil society organizations and local communities on this critical area, which is so important for the country's future development".
The four-year project will benefit up to 100,000 children each year, mostly girls, who are at risk of engaging in child labour. The project will be rolled out in 16 governorates, mostly in Upper Egypt, with children receiving a daily snack at school in the form of fortified date bars to help reduce short-term hunger and provide 25 percent of their daily required nutritional needs.
In addition, up to 400,000 family members whose children maintain their attendance in community schools will receive a monthly take-home food ration that compensates for the wage that a child would earn if they were sent out to work instead of going to school. WFP will also be supporting some 50,000 households, particularly mothers, to start income generating activities that will help keep their children in class.
In Egypt, 2.7 million out of approximately 11 million children are engaged in the labour market. A 2010 study by the International Labour Organisation (ILO) and Egypt's Central Agency for Public Mobilization and Statistics suggested that 13 percent of Egypt's school-age population have dropped out of school to engage in labour, with girls in rural areas suffering the most from limited access to education.
"By providing food assistance and livelihoods incentives, we aim to encourage enrolment and, more importantly, retention in school of the most vulnerable children, especially girls," said WFP Representative and Country Director in Egypt, Lubna Alaman. "WFP is already supporting Egypt's National School Feeding Programme, as a crucial safety net for the poorest households, and will additionally support government efforts to improve the legal framework on child labour."
The EU-WFP project comes as a continuation of both organizations' activities in Egypt to combat the worst forms of child labour and improve access to education for the most vulnerable children.
WFP has been operating in Egypt since 1963 and has so far provided more than US$681 million in assistance to the most vulnerable groups. In 2014, more than 650,000 Egyptians will benefit from WFP projects across the country. WFP's work in Egypt targets the most vulnerable communities with a particular focus in Upper Egypt, aiming at encouraging education, combating child labour and empowering women.
#                                             #                                 #
WFP is the world's largest humanitarian agency fighting hunger worldwide, delivering food in emergencies and working with communities to build resilience. In 2013, WFP assisted more than 80 million people in 75 countries.    
Follow us on Twitter @wfp_media and @wfp_mena
For more information please contact:
Amina Al Korey (WFP), amina.alkorey@wfp.org, Tel. +202 2528 1730 Mob. +2  01028531535