Five Years After Major Quake, WFP And The Haitian People Are Building A Stronger Haiti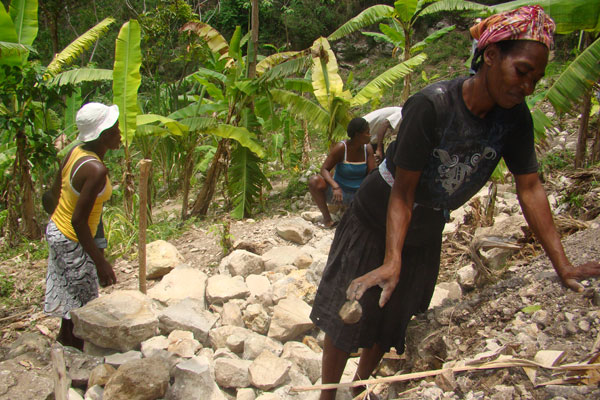 PORT-AU-PRINCE – Five years after a catastrophic earthquake killed 200,000 people, the United Nations World Food Programme (WFP) and the Government of Haiti are working to build a more resilient community to better withstand future disasters.
In the hours after the quake struck on 12 January 2010, WFP began distributing emergency food to those survivors left in the rubble. Within four months, WFP had provided food for more than 4 million vulnerable Haitians, which helped avert a food crisis.
WFP's acting Representative in Haiti, Wendy Bigham, believes it is vital to maintain momentum in making Haiti more resilient to future disasters. "Persistent chronic poverty and inequality, environmental degradation and continuing political uncertainty threaten achievements Haitians have made over the past five years," she said. 
Because of its geography, Haiti is highly prone to natural disasters such as hurricanes, floods, landslides and droughts. Poverty means that even moderate shocks can push people into hunger. Today, 3 million Haitians remain unsure where their next meal will come from. 
Since 2010, WFP has helped create job opportunities for over 200,000 Haitians in cash- or food-for-work projects aimed at stabilising food security. In Marigot, a community nestled between the Caribbean Sea and the mountains that was hit hard by the earthquake, local farmers have been employed to build hillside stone terraces. These terraces stop rain from washing away rich topsoil, help prevent landslides and provide flat space for farmers' planting. Otianes Jouissance is a 60 year old farmer who helped build the terraces. "The project gave me a job and helped me put food on the table," he said. 
In Haitian Creole, 'Kore Lavi' means 'Supporting Life' and that's what WFP is doing under a project that helps improve the nutrition of Haiti's poorest women and young children. Funded by the United States Agency for International Development (USAID), and in partnership with CARE and Action Contre la Faim, WFP provides a flour mixed with vitamins and minerals as well as bulgur wheat, cooking oil and beans. The strategy behind the project is that by strengthening nutrition now, vulnerable Haitians will be stronger and healthier the next time a disaster strikes.
During 2015, WFP is implementing projects to reach up to 1.2 million highly vulnerable Haitians including supporting the government to provide hot meals to almost half a million schoolchildren. Some of the produce for the project is bought locally as a way of supporting the country's farmers. Together with the Ministry of Agriculture smallholder farmers' associations are trained and mentored to meet WFP's local procurement standards.
On the fifth anniversary of the earthquake, WFP thanks the international community for its support so far in Haiti. However, the work is not yet finished. WFP requires US$28 million in 2015 to provide essential food assistance to Haitians whose food and nutritional security remains precarious.
In 2014, WFP's main donors for Haiti were, in alphabetical order, Canada, France, Germany, Switzerland and the United States.
For more information please contact (email address: firstname.lastname@wfp.org):
Emilia Casella, WFP/Rome, Tel. +39 06 6513 3854, Mob. +39 347 9450634
Gregory Barrow, WFP/London, Tel.  +44 20 72409001, Mob.  +44 7968 008474
Elisabeth Byrs, WFP/Geneva, Tel. +41 22 917 8564, Mob. +41 79 473 4570
Bettina Luescher, WFP/New York, Tel. +1-646-5566909, Mob.  +1-646-8241112
Steve Taravella, WFP/Washington DC, Tel. +1 202 653 1149, Mob. +1 202 770 5993 
Alejandro Lopez-Chicheri, WFP/Latin America, Tel. +507 317 3936, Mob. +507 6671 5355 
Lucia Fernandez, WFP/Madrid, Tel. +34 672 068 169