Food insecurity soars in conflict-ridden Democratic Republic of Congo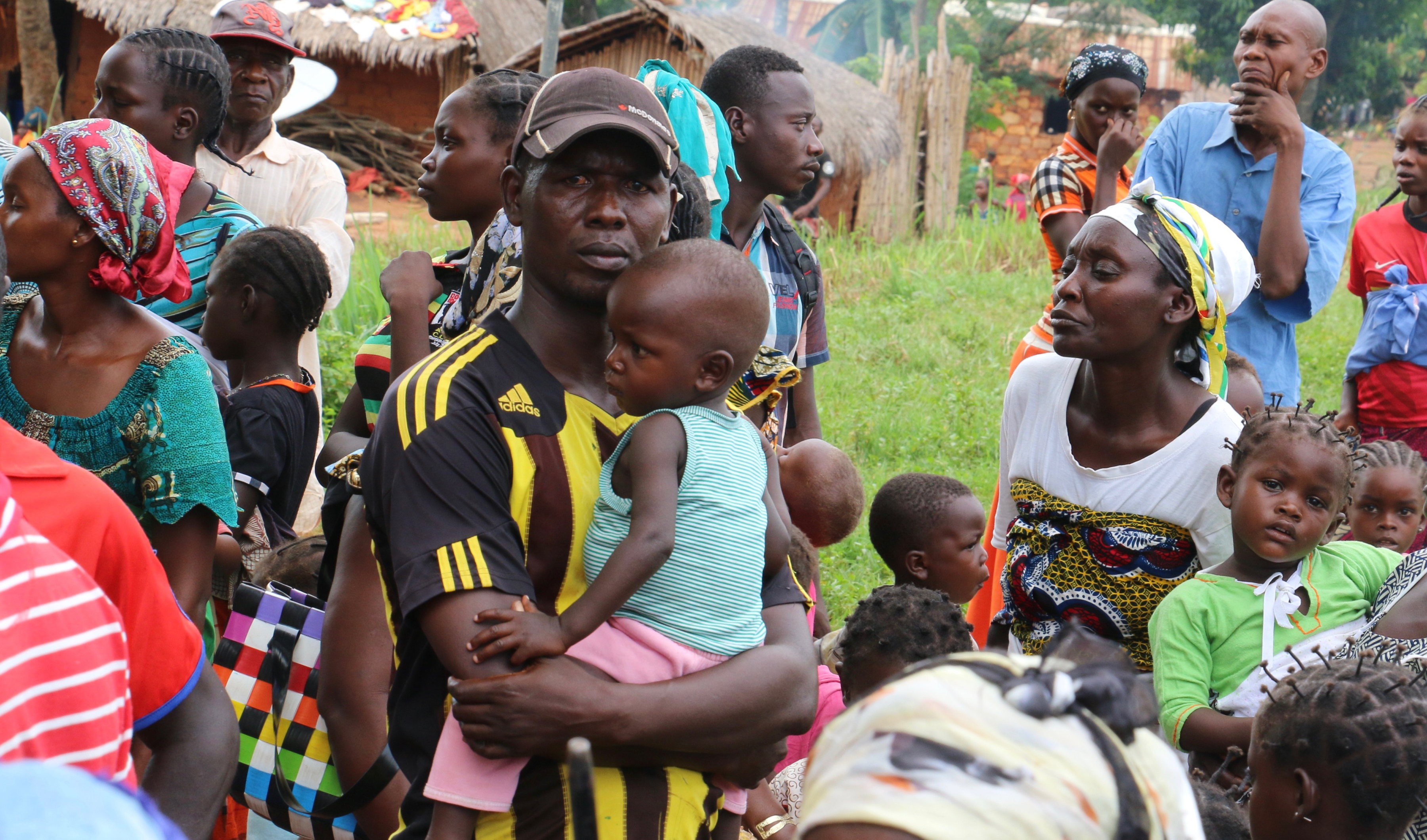 Around 7.7 million people require urgent humanitarian assistance, FAO and WFP warn
Kinshasa – Amid rising violence and displacement in the Democratic Republic of Congo (DRC), 7.7 million people face acute hunger - a 30 percent increase over the last year, the Food and Agriculture Organization of the United Nations (FAO) and the World Food Programme (WFP) warned today in a new report. 
According to the Integrated Food Security Phase Classification (IPC) analysis released today, between June 2016 and June 2017, the number of people in "emergency" and  "crisis" levels of food insecurity (IPC Phase 4 and 3) – which precede "famine" levels on the IPC scale – and requiring urgent humanitarian food assistance  rose by 1.8 million, from 5.9 million to 7.7 million. 
This means that more than one in ten people living in rural areas suffer from acute hunger. 
Hunger is on the rise due to escalating and prolonged conflict and displacement in central and eastern DRC, mainly in the Kasaï and Tanganyika regions, where there has been widespread violence. Some 1.4 million people have been forced to flee their homes over the past year.
The report noted that the humanitarian situation has been exacerbated by the spread of fall armyworm infestations and cholera and measles outbreaks.
In conflict-ridden areas, over 1.5 million people are facing "emergency" levels of food insecurity (IPC Phase 4) according to the IPC report, which means people are forced to sell everything they have and skip or reduce their meals.
"In conflict-ridden areas, farmers have seen their villages and fields pillaged. They have not been able to plant for the last two seasons. There is a lack of local markets providing for their food needs. Conflict toppled with armyworm infestations destroying crops in over a quarter of the country's vast territories are devastating for rural communities. The situation is set to get worse if urgent support does not come in time," said Alexis Bonte, FAO Representative ad interim in DRC.
"Farmers, especially those displaced – majority women and children – desperately need urgent food aid but also means to sustain themselves, such as tools and seeds so that they can resume farming. Many of the displaced women lost their husbands. Farming, for them, is a way to get back on their feet, and face the future with dignity and hope," added Bonte. 
Coping with acute hunger 
Between 50 to 80 percent of people in some of the areas affected by hunger struggle to make ends meet and to have something to eat. In several areas, people only eat once a day, and their meals – based on corn, cassava or potatoes - do not meet their daily nutritional and calorie needs. Food prices have been rising for the last three months. In some cases, diets are limited to starches and leaves.
Others have to resort to reducing or skipping meals, selling assets, borrowing money and sending family members to beg or eat elsewhere.
Chronic malnutrition affects 43 percent of children under five – more than 7 million children – in DRC. 
Widespread displacement – some 3.7 million people are displaced in DRC - and a steady flow of refugees from neighboring countries putting a strain on already stretched resources as well as the alarming spread of fall armyworm infestations, which affects 50 out of DRC's 145 territories, have been exacerbating food insecurity. This particularly in areas with high levels of poverty and malnutrition and chronic food insecurity. 
Much of the recent deterioration is down to the worsening plight of people in Kasaï.
"WFP is extremely concerned about food security and nutrition, which are deteriorating in many parts of DRC," says WFP's DRC Country Director, Claude Jibidar. "But nowhere is the situation more alarming than in Kasaï. We call on all parties to allow passage for life-saving assistance, and on the international community to help meet pressing needs."
Support is urgently needed
FAO and WFP call for an urgent increase in the provision of lifesaving food and specialized nutrition assistance to combat malnutrition as well as seeds and tools so that farmers can plant again and regain their livelihoods.
In conflict-hit areas of Kasaï  and Tanganyika regions, FAO is providing vegetable seeds and hand tools to rapidly boost food production and increase the availability of nutritious foods among displaced and hosting communities. Ultimately, livelihoods are people's best defense against hunger and catastrophe. In 2017, FAO is seeking to assist 2.1 million people in DRC to tackle hunger, restore food production and build more resilient livelihoods.  
WFP continues to support DRC's most vulnerable people. It has deployed staff in two of Kasaï's hardest hit provinces, Tshikapa and Kasaï Central, where it will launch food distributions in the coming days. Elsewhere in the country, WFP is providing logistics capacity including air and road transport, fuel and storage to the wider humanitarian community.
###
About WFP
WFP is the world's largest humanitarian agency fighting hunger worldwide, delivering food assistance in emergencies and working with communities to improve nutrition and build resilience. Each year, WFP assists some 80 million people in around 80 countries.
 
About FAO
FAO leads international efforts to defeat hunger.  FAO assists developing countries and countries in transition to modernize and improve agriculture, forestry and fisheries practices and ensure good nutrition for all.
 
Follow us on Twitter @wfp_media  @FAONews
 
Contact:
Claude Kalinga, WFP Kinshasa, Mob. +243 81 700 6714, claude.kalinga@wfp.org
Adel Sarkozi, FAO Rome, (+39) 06 570 52537, adelka.sarkozi@fao.org