Food Reaches All Cyclone-Affected Islands In Vanuatu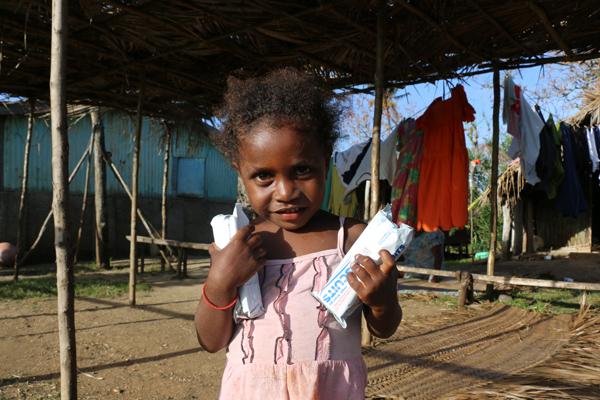 BANGKOK/PORT VILA– Two weeks after Cyclone Pam hit Vanuatu, food has reached all 22 cyclone-affected islands for more than 160,000 people. The United Nations World Food Programme (WFP) is supporting the government-led relief effort by organizing distributions, logistics services, and providing extra food to supplement government food packages where necessary.
•    Government food packages include a two-week supply of rice, canned fish and meat, and noodles. WFP is supplementing this with 200 metric tonnes of locally-purchased rice and 40 metric tons of biscuits fortified with vitamins and minerals. The biscuits, which were airlifted to Vanuatu, are being sent to nine priority islands where families have limited access to clean water to cook food.
•    After the initial relief phase, WFP plans to provide further food assistance to the most vulnerable until they can provide for themselves. A team of food security experts is on the ground to build a detailed picture of the needs.
•    WFP has brought in emergency equipment from WFP-managed UN Humanitarian Response Depots in Dubai and Malaysia to help the government with the management of the large volume of relief cargo arriving in Vanuatu. WFP has set up mobile storage units at Port Vila airport for relief items and a further hub is being set up on Tanna island.
•    The WFP-led Emergency Telecommunications Cluster and its partners are providing connectivity at seven sites across Vanuatu for use by the government and humanitarian community.
•    A UN Flash Appeal, launched in Port Vila on 24 March, seeks US$29.9 million to cover the needs of 166,000 cyclone-affected people for three months. WFP requires up to US$6 million for food assistance activities and US$2.3 million for logistics and telecommunications services.
•    WFP is grateful for contributions received from the Government of Australia, as well as logistical support in the form of cargo aircraft made available by the Government of Australia and the Government of the United Arab Emirates.
#                              #                                 #
WFP photos of food being distributed on Vanuatu's Aniwa island (Tafea province) on 26 March are available at the below link. Photo credit: WFP/Victoria Cavanagh.
To download WFP photos: https://www.hightail.com/download/UlRUUWVqQzdGOFJvZE1UQw
WFP is the world's largest humanitarian agency fighting hunger worldwide, delivering food assistance in emergencies and working with communities to improve nutrition and build resilience. Each year, WFP assists some 80 million people in around 75 countries.
Follow us on Twitter @wfp_media and @wfp_asia
For more information please contact: (first name.last name@wfp.org)
Victoria Cavanagh, WFP/Port Vila, Mob. +678-546-9846
Silke Buhr, WFP/Bangkok, Mob. +66-81-701-9208
Zoie Jones, WFP/Rome, Tel. +39 06 6513 3940, Mob: +39 342 902 5566
Gregory Barrow, WFP/London, Tel.  +44 20 72409001, Mob.  +44 7968 008474
Bettina Luescher, WFP/New York, Tel. +1-646-5566909, Mob.  +1-646-8241112