Football Star Zlatan Ibrahimovic Kicks Off Campaign To Beat Hunger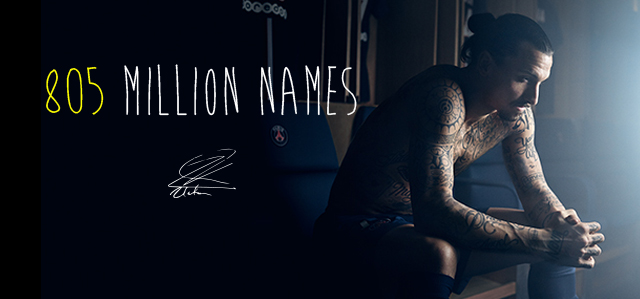 PARIS – Football player Zlatan Ibrahimović, striker for Paris-Saint-Germain (PSG) football club and captain of the Swedish national team, announced today he was playing with the names of hungry people tattooed on his body in a campaign for the United Nations World Food Programme (WFP).
Ibrahimović said that, yesterday, he played the League 1 game with the individual names of some 50 of the 80 million hungry people who WFP assists globally tattooed onto his skin.
"Wherever I go people recognize me, call my name, cheer for me," said Ibrahimović. "But there are names no one cares to remember. That no one cheers for: the 805 million people suffering from hunger in the world today."
"I have supporters all over the world. From now on I want this support to go to the people who suffer from hunger, they are the real champions. So whenever you hear my name, you will think of their names," he told a news conference launching the campaign at PSG headquarters in Paris.
The campaign is built around the 50 names symbolically representative of the 80 million people currently assisted by WFP in crises in Syria, Iraq, South Sudan, Central African Republic, the Ebola-affected countries of Guinea, Sierra Leone and Liberia, as well as in Bolivia, Cambodia, and Democratic Republic of Congo where WFP helps to build resilience.
Ibrahimović played in Saturday's match with the names of people such as Carmen, Mariko, Antoine, Sawsan, Chheuy, Lida, Siatta, Rahma, Yaae who receive food assistance tattooed temporarily on his body to highlight hunger and what WFP is doing about it.
"Each one of the 805 million people suffering from hunger in the world has a name, a voice, a story to share," said Marina Catena, WFP Director for France and the Principality of Monaco.
"Zlatan accepted the challenge and wished to carry their stories on his own skin so that the world does not forget them."  
The awareness campaign can also count on the critical support of Paris-Saint-Germain as well as the Paris-Saint-Germain Foundation, active since 2000 and focusing on a wide range of dedicated programmes involving children. All these programmes reach up to 10.000 children per year in Paris and its suburbs.  
"The Paris Saint-Germain Foundation is a very important part of Paris Saint-Germain Football Club's larger project. Our work focuses on people in difficulty whether it is for example at Hospital Necker for children, helping out of school teaching programmes, simply offering vacation or various programmed activities in the Parisian suburbs" said Nasser Al-Khelaïfi, Chairman and CEO of the club and President of the  PSG Foundation.
"We are building a great football team and we wish that the values of solidarity and help that are foundations of our team are also shared towards people in greater needs. 'Dream bigger' is PSG's motto and so we have decided to support our football player Ibrahimović and WFP in this innovative campaign to raise global awareness on the fight against hunger," added Nasser Al-Khelaïfi.
"We are extremely grateful to PSG for supporting our initiative to spread such a strong solidarity message that, I am sure, will shine beyond France and the football world," said Ms. Catena.
The campaign consists of an awareness video and a special webpage: www.wfp.org/805millionnames users can learn more about WFP and the people who it assists every day.
The campaign was made possible thanks to the invaluable creativeness and generosity of Forsman & Bodenfors, the most awarded advertising agency in 2014, which worked  pro-bono in close collaboration with film production company Newland and media integration agency Matter. Be On / AOL and Lundgren & Lindqvist have also contributed with immense pro bono support to make this campaign a reality.
Hunger Facts:
•    About 805 million people, or one in nine, worldwide do not have enough to eat;
•    In 2015, WFP aims to provide 17.12 billion daily rations in 150 projects to about 78 million people in 76 countries;
•    In 2014, WFP bought food from 93 countries worldwide (75 developing and 18 developed countries) valued at US$1.26 billion (2.2 million metric tons).
•    WFP has greater logistical capacity and operates a larger transport network than any other humanitarian organization. On any given day, 5,000 trucks and 50 aircraft, 30 ships are delivering food across the globe.
•    WFP relies entirely on voluntary contributions for its operations.
#                              #                                 #
WFP is the world's largest humanitarian agency fighting hunger worldwide, delivering food assistance in emergencies and working with communities to improve nutrition and build resilience. Each year, WFP assists some 80 million people in around 75 countries.
Follow us on Twitter @WFP_FR
For more information and interviews, please contact (email address: firstname.lastname@wfp.org):
Marina Catena, Director of the World Food Programme for France and the Principality of Monaco, WFP/Paris, Tel. + 33 1 45 68 49 20, Mob +33 6 75 17 85 38