Global Child Nutrition Forum 2013 Begins In Brazil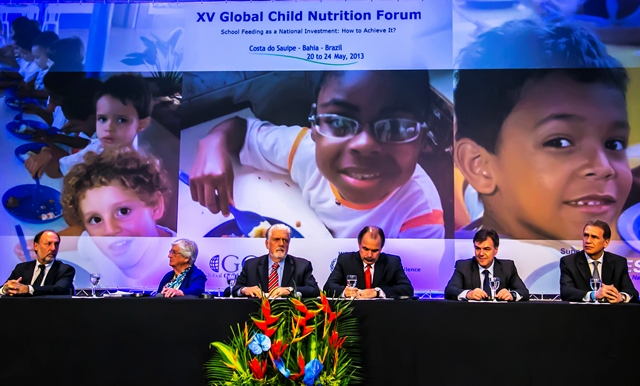 Over 240 delegates from 37 countries are coming together in Costa do Sauípe, Brazil, to exchange experiences and debate options for developing sustainable national school feeding programmes in the Global Child Nutrition Forum 2013. It is the 15th edition of the meeting and it's the first time that it occurs outside Africa or the United States. The Forum opens this Monday, 20 May, and will conclude on 24 May.
BRASILIA –Ministers from all over Africa, including Angola, the Democratic Republic of Congo, Ghana, Liberia and Sudan, have confirmed their attendance. Other countries include Iraq from the Middle East; Haiti and Costa Rica from Latin America and the Caribbean; and Tajikistan from Asia.
 

"We are honored to co-host this event in Brazil, and facilitate the exchange of knowledge on school feeding programmes so no children will go hungry in school in the future," said Daniel Balaban, Director of the WFP Centre of Excellence against Hunger in Brasilia.
 
The five-day forum is an intensive workshop on methodologies and experiences to improve school feeding strategies. Delegates will have the opportunity to train on the School Feeding Toolkit, a methodology developed by the Global Child Nutrition Foundation, and the methodologies on sustainable school feeding programmes by WFP and the World Bank.
 
Participants will also have the opportunity to join field trips to different regions of the Bahia state to learn about local experiences and elements of the Brazilian School Feeding Programme: a smallholder farm, a local cooperative, a distribution centre and a school.
 

During the Forum, the World Food Programme will launch its new report State of School Feeding Worldwide 2013. Prepared in alliance with the World Bank and the Partnership for Child Development, the report estimates that 368 million children receive a meal at school every day. It presents data from a global survey, maps, case studies and analysis.
 
The Forum is organized by Global Child Nutrition Foundation since 1997, and the 15th edition is co-hosted by the WFP Centre of Excellence against Hunger, which is based in Brasilia. The WFP Centre aims to respond to the demands of national governments to strengthen their capacities on sustainable school feeding and other programmes against hunger, and to share global knowledge in these fields.
 
 
#                              #                                 #
 
WFP is the world's largest humanitarian agency fighting hunger worldwide.  Each year WFP feeds more than 90 million people in more than 70 countries.
 
Follow us on Twitter @wfp_media
 
For more information please contact (email address: firstname.lastname@wfp.org):
Marcio Kameoka, WFP/Brasilia, Tel. +55 61 2193 8513, Mob. +55 61 9260 9835
Elio Rujano, WFP/Latin America, Mon +507 6677 0608