Guatemala and Canada Work to Improve Food Security and Reduce Malnutrition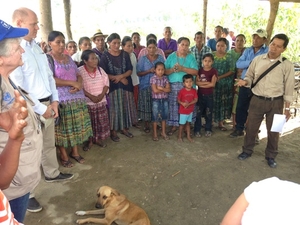 The Canadian Ambassador to Guatemala, Stuart Savage, and the Representative of the World Food Programme (WFP), Mario Touchette, joined government officials of Guatemala, to officially launch the programme "Guatemalan Maize Alliance Against Hunger", which aims to support Guatemala's efforts to increase agricultural productivity and reduce malnutrition.
"Canada supports the work of Guatemala in its movement to improve child nutrition. It also seeks to support small-scale agriculture, by increasing profitability and accessibility to markets that sell high quality maize and beans. We seek to help communities in vulnerable areas become more resilient," said Canadian Ambassador, Stuart Savage.
Canada has made a contribution of $10 million to the "Guatemalan Maize Alliance Against Hunger" project. The programme will be implemented by WFP in close coordination with the Ministries of Agriculture, Livestock and Food, and the Ministry of Public Health and Welfare. Its overall objective is to contribute to increased food security and nutrition to the vulnerable population groups of Guatemala. Through the programme beneficiaries will gain technical assistance for sustainable management of production, training and wo
rkshops on organizational strengthening and networking between farmers and potential markets.
"For WFP to launch this programme brings great satisfaction. It represents a virtuous relationship in which the grains are produced by small farm holders association that allows them to create a source of income from their produce sold within the local markets. It is this comprehensive response, which targets different causes of food insecurity simultaneously in Guatemala with sustainable solutions," said the WFP Representative, Mario Touchette.
The project will be implemented in eight departments (Alta Verapaz, Izabal, Chiquimula, Zacapa, Jutiapa, Progress, Solola and Chimaltenango) and involves 42,000 participants and beneficiaries.
Additional Project Information
This project is aligned with the objectives of Canada in terms of food security as a priority in international development, and Canadian commitments under the Muskoka Initiative to Maternal, Neonatal and Childhood health in developing countries.
The project will increase the productivity of sustainable agriculture for 3,300 small-scale farmers as well as their access to markets. It will improve the consumption of nutritious foods and provide fortified food to more than 27,500 children, pregnant and nursing women.
Some 9,000 families living on subsistence farming will receive food assistance to generate a more secure income so they can buil
d long term resilience against adverse weather conditions, such as hurricanes or droughts.
The surplus production from the participating small farmer holder associations will be used to produce fortified complementary foods for infants 6 to 23 months, and pregnant and nursing women.  Proper nutrient consumption is crucial to ensure proper growth.
WFP will also make agreements within the private sector as part of this project. WFP will be receiving bids among food processing companies to manufacture food supplements for its distribution among vulnerable populations. As part of the agreements, the food processing companies will buy the smallholder farmers who are part of the Purchase for Progress (P4P). It is through this partnership smallholder farmers will have access to new markets and companies will have access to a secured buyer, such as WFP. 
Key components of the project include, the "Purchase for Progress" (P4P) that links small-scale agricultural production organizations to markets, the supplementary feeding program which also holds nutrition education activities, and a programme that helps communities maintain food security in the case of any unforeseen obstacles (i.e. floods, droughts, etc.).
The programmes are meant to benefit the whole community, while emphasising in the empowerment of women.