Helping the Rural Poor a Priority for Haiti 3 Years After the Earthquake: Says WFP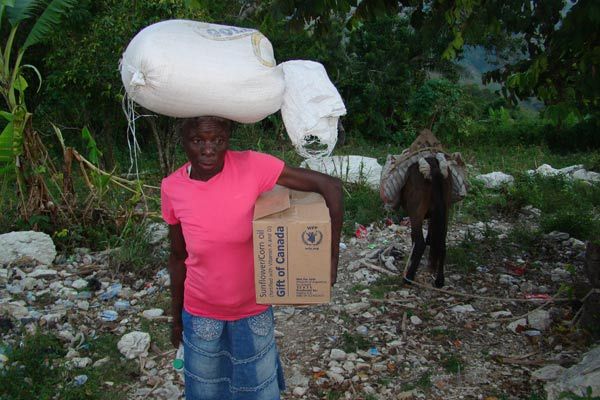 The United Nations World Food Programme (WFP) has warned that while there has been progress recovering from the terrible earthquake that hit Haiti three years ago, Haitians are now facing new food security challenges with the effects of drought, Tropical Storm Isaac and Hurricane Sandy.
PORT-AU-PRINCE – Country Director Myrta Kaulard said WFP stands close to the victims and survivors of the terrible earthquake  and while national capacities have grown stronger after the quake, many Haitians are struggling to put food on the table.
"Critical crop losses have severely reduced access to food and to income opportunities for the rural population and some households in the worst-affected areas have no food stocks available. As a consequence, food insecurity is on the rise," she said.
A recent survey showed that as many as 119 rural municipalities out of a total 140 have been severely affected by the drought, Tropical Storm Isaac and/or Hurricane Sandy. More than 1.5 million people are now living in severe food insecurity in Haiti, especially in rural areas,  and more than double this figure are in moderate food insecurity.
 "We need additional resources to help farmers prepare for the next planting season starting in March," said Kaulard. "If we don't act now we are at risk of losing the hard-won achievements we have seen in Haiti over the past three years," she added.
In response to the on-going food crisis, the Haitian Ministry of Agriculture has planned measures to support farmers to rehabilitate their lands and irrigation infrastructure including improved access to seeds and fertilizers. To support this plan, WFP has developed a number of projects involving up to 225,000 beneficiaries through a combination of agricultural rehabilitation and watershed protection providing employment, incomes and improved food security.
WFP is also very concerned about the nutrition of pregnant and nursing women and children under five years in rural areas as well as those who still live in camps where they moved after the earthquake .
WFP urgently needs US$18 million to continue critical projects in Haiti designed to help reinforce resilience, provide essential income support and combat malnutrition.
 
For the last 3 years, WFP's work in Haiti has entailed a multi-pronged strategy focused on supporting the Haitian government to find long-term solutions to hunger and malnutrition in the country, with the goal of increasing food security and strengthening resilience by providing nutritional safety nets for the most vulnerable and supporting local markets across the country. During 2012, working with the government, local authorities, UN and NGO partners, WFP implemented programmes to provide food assistance to 1.7 million Haitians.
For more on the third anniversary of the earthquake, click here