Iceland And WFP Sign Strategic Partnership Agreement To Help Reach Zero Hunger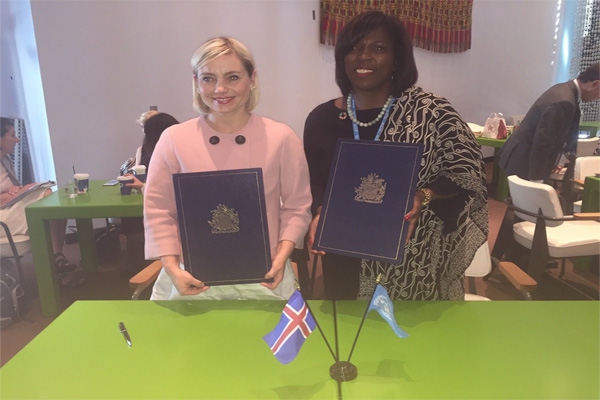 NEW YORK – Iceland and the United Nations World Food Programme (WFP) signed a landmark agreement to provide flexible, predictable and multi-year funding for WFP's work towards helping to achieve Sustainable Development Goal 2 of zero hunger by 2030.
This first Strategic Partnership Agreement between Iceland and WFP was signed in New York on Thursday during the UN General Assembly opening week by Icelandic Minister for Foreign Affairs Lilja Alfreðsdóttir and WFP Executive Director Ertharin Cousin. 
"Through this framework agreement with WFP, Iceland is following up on its commitments from the World Humanitarian Summit, to provide predictable and flexible life-saving funding to improve support to those in need of humanitarian assistance, according to humanitarian principles and good humanitarian donorship," said Minister Alfreðsdóttir. 
"Reaching the most vulnerable groups is essential, and through this agreement with WFP, we can do that and ensure that gender equality and women's rights become pillars of humanitarian action," she added.
Within Iceland's humanitarian policy, WFP remains a key UN partner organization to Iceland.
"At a time of unprecedented humanitarian emergencies, WFP highly appreciates partners such as Iceland for enabling us to respond quickly and effectively to the needs of millions of people caught up in conflict or natural disasters," said Cousin. "Early response saves lives and livelihoods. It also allows WFP to help those left furthest behind."
Flexible funding is the lifeblood of humanitarian operations; it is also critical to WFP's ability to react fast in emergencies as well as maintain support for neglected crises.
Inspired by the "Grand Bargain" proposed at the World Humanitarian Summit earlier this year, under which donors committed to more flexible funding and aid agencies to greater transparency and cost-consciousness, Iceland will provide WFP with funds that are not earmarked for specific countries or specific operations. 
Over the next five years and through the Strategic Partnership Agreement, Iceland's contribution to WFP will be at least ISK 250 million (US$2.2 million) in fully flexible funding. The agreement also allows for earmarked contributions, as the Government of Iceland plans to complement its flexible funds with directed contributions.
With its deep commitment to humanitarian principles and dedication to Good Humanitarian Donorship, Iceland remains one of WFP's most valued strategic partners. 
The Strategic Partnership Agreement is centred around food security and nutrition challenges in both emergencies and protracted crises, including ways of promoting livelihood opportunities. There is also a focus on gender issues and accountability to affected populations. 
Since 2003, WFP has benefited from an active Stand-By Agreement with Iceland's Crisis Response Unit through which Icelandic professionals have been seconded to WFP. With the new Strategic Partnership Agreement, the Stand-By Agreement will be expanded to enhance WFP's capacity to respond to emergencies and strengthen its food assistance operations. 
#                              #                                 #
WFP is the world's largest humanitarian agency fighting hunger worldwide, delivering food assistance in emergencies and working with communities to improve nutrition and build resilience. Each year, WFP assists some 80 million people in around 80 countries.
Follow us on Twitter @MFAIceland, @WFP_DK and @wfp_media
For more information please contact:
Gunnar Salvarsson, Icelandic MFA, Mob. + 354 699 5506, Email: gunnar.salvarsson@utn.stjr.is 
Anne Poulsen, WFP/Copenhagen, Mob. +45 40503993, Email: anne.poulsen@wfp.org 
Caroline Hurford, WFP/Rome, Mob. +39 348 1325018, Email: caroline.hurford@wfp.org