Lack Of Funds Forces WFP To Halve Its Food Rations To Displaced Iraqis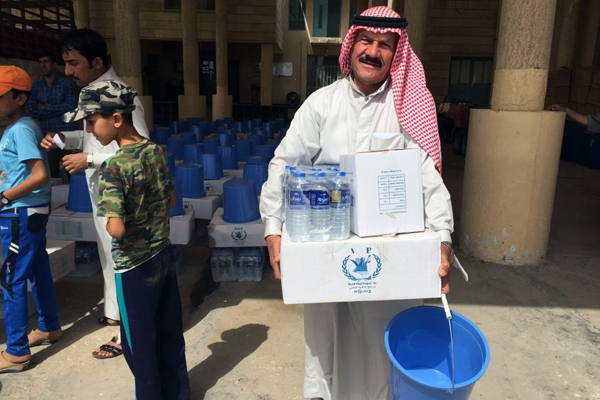 BAGHDAD – A severe funding shortfall in Iraq has forced the United Nations World Food Programme (WFP) to cut down the amount food it provides to close to one million displaced people in Iraq.
"Unfortunately, lack of funds and the rise in the number of displaced Iraqis  forces us to reduce the size of the food ration we provide to tens of thousands of families living outside camps," said WFP Representative and Country Director in Iraq Jane Pearce. "We recognize families living outside camps are living in tough conditions, but we had to make this difficult decision to stretch our help for the most vulnerable until we receive more funds."
In April, because of resourcing difficulties, WFP began to prioritize available funds for internally displaced people (IDPs) to focus particularly on those most in need. People receiving food vouchers had the value of the support they receive reduced from US$26 to US$16. WFP has now halved the size of the family food parcels it distributes monthly so that they cover 40 percent of a household's daily needs instead of 80 percent. Families within camps who have no access to job opportunities still receive full rations.
Families living outside of camps say the reduced ration means they have to purchase more food items from stores and, according to WFP's vulnerability assessments, two in five internally displaced households (40 percent) do not have enough food or money to shop.
"The half food parcel is not enough for my family so I am forced to buy the missing food items and this depends on whether I can find work to make money or not," said Waleed Fadel, a father of seven.
Such reductions come at a critical time for those displaced by the conflict. Almost three million Iraqis have fled their homes and continue to move across the country. As the humanitarian situation continues to deteriorate, many people live in precarious conditions without access to food, water or shelter.
WFP is fully funded by contributions from governments, companies and private individuals. Over the last year, generous contributions from the international community have enabled WFP to scale up its operations massively, from assisting 240,000 Iraqis displaced by violence to reaching 1.8 million Iraqis across the country's 18 governorates within the same year.
The operation in Iraq is currently 61 percent underfunded and requires US$ 78.1 million to continue assisting the displaced until end of year.
#                              #                                 #
WFP is the world's largest humanitarian agency fighting hunger worldwide, delivering food in emergencies and working with communities to build resilience. Each year, WFP assists some 80 million people in around 80 countries.
Follow us on Twitter @wfp_mena
For more information please contact
(email address: firstname.lastname@wfp.org):
Marwa Awad, WFP/Erbil, Mobile +964 780 915 0764
Reem Nada, WFP/Cairo, Mobile: +2 010 6663 4522
Jane Howard, WFP/Rome, Tel. +39 06 65132321, Mob. +39 346 7600521
Gregory Barrow, WFP/London, Tel.  +44 20 72409001, Mob.  +44 7968 008474