Lao PDR: WFP Executive Board Visits School Meals Project, Presents Art Award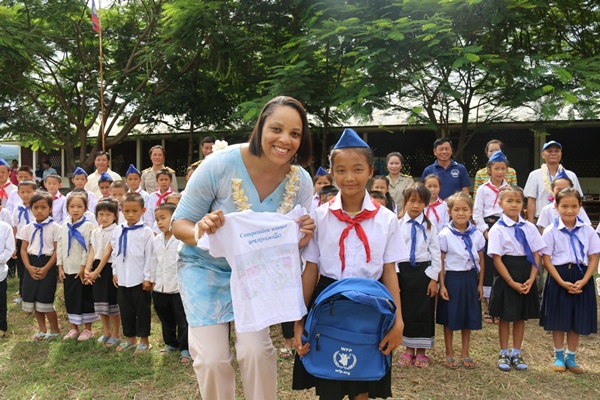 Delegates of the Executive Board of the World Food Programme (WFP) gain an understanding of WFP programmes in Lao PDR during their visit to Luangnamtha and Oudomxay provinces.
VIENTIANE –Delegates of the Executive Board of the World Food Programme (WFP) from Rome, Italy, have concluded a visit to Lao PDR that provided an understanding of WFP programmes in the country.  During their visit they met with Government counterparts and observed WFP programmes in the northern Provinces of Luangnamtha and Oudomxay.  They visited primary schools where children receive school meals through WFP, as well as seeing programmes supporting the nutrition needs of mothers and young children. The field trip also took in asset-creation projects for rural development supported through WFP food distributions. The mission had the opportunity to meet with communities who benefitted from WFP's food assistance following the 2012 drought and/or the 2013 floods. Delegates also visited the Lao Government National School Lunch Programme.       
In Luangnamtha Province, the delegates observed the village cooks preparing a mid-morning snack at Na Noi Primary School.  The snack is made from SuperCereal provided by WFP – a nutritious blend of corn and soya flour that provides children with the energy and nutrients to participate fully in school.  WFP's school meals programme in Lao PDR started in 2002 and now covers 1,747 schools in seven provinces, thanks to the generous support of USDA, Australia, Cuba and Japan Association for WFP (JAWFP). In line with the recently-approved government policy on promoting school lunches, WFP will be transitioning to distribute lunch rather than mid-morning snacks. WFP will also be supporting the development of school gardens, which will not only be an educational forum for children but also contribute to the nutrition content of their lunches.
The delegation also presented an award to a winner of WFP's annual drawing competition. Sia, a Grade 5 student in Luangnamtha, is one of five national winners for her drawing depicting her helping her family with planting crops and animal raising. She received a WFP t-shirt of her drawing and a WFP backpack as well as a soccer ball for her school.  Sia, the middle child in a family of five children speaks shyly about how she is glad to win this award as she loves drawing and hopes to become a teacher. 
The competition theme was "Zero Hunger:  A World without Hunger" and three schools from each of the 30 districts with a school meal programme participated.  The national winners were also entered into the global WFP competition.        
"Creativity is an essential element for both combatting malnutrition and raising awareness about good nutritional practices", said Natalie E. Brown, Deputy Permanent Representative of the U.S. Mission to the UN Agencies in Rome and member of the WFP Executive Board.  "The School Meals programme helps to support this creativity and the United States is pleased to partner with WFP and other donors to support the education of Lao youth."  Additionally, "the art competition is a wonderful way to involve and educate children.  Sia's winning drawing shows her understanding of the importance of a healthy diet to her growth and development and that of her family and community" she added.   
As WFP works in partnership with the Government of Lao, meetings were held in Vientiane Capital with key implementing partners including the Ministry of Labour and Social Welfare (MoLSW), the Ministry of Education and Sports (MoES), the Ministry of Agriculture and Forestry (MAF), the Ministry of Health and the Ministry of Natural Resources and Environment (MoNRE).  Strategic meetings were hosted by the Ministry of Foreign Affairs (MoFA) and the Ministry of Planning and Investment (MPI). 
The Executive Board oversees WFP's humanitarian and development assistance work – providing strategic guidance and approving WFP programmes.  The delegates visited Lao PDR from the 9-16 September.