New Atlas Charts Indonesia's Food Security Progress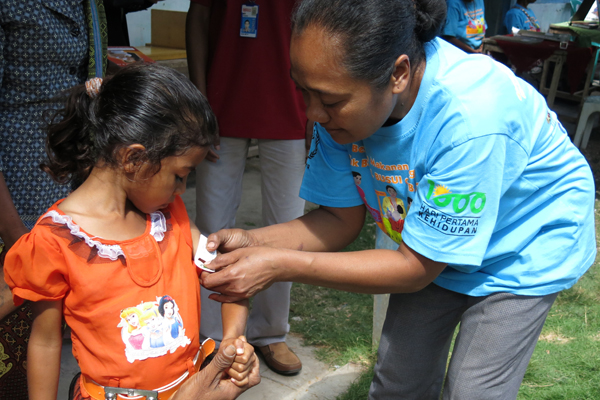 JAKARTA – Indonesia has made significant improvements in food security in the last decade, according to a new Food Security and Vulnerability Atlas published by the government and the United Nations World Food Programme (WFP).*
Food security has improved in most of Indonesia's 398 rural districts, according to the 2015 Atlas, launched today in Jakarta by Indonesian Vice-President Jusuf Kalla and Ertharin Cousin, WFP's Executive Director.
The Atlas says that 15 percent of districts are considered "acutely vulnerable to food insecurity." This number has declined sharply compared to a decade ago, when it was 22 percent. The districts most vulnerable to food insecurity are all in Papua, where poverty rates are often higher than 25 percent.
Since the first Atlas was published in 2005, levels of poverty have fallen, improving access to food for many households across Indonesia. At the same time, Indonesians have better access to health facilities, and electricity and roads have reached more areas.
"The Government and the people have succeeded in reducing food insecurity in Indonesia. However, we have not succeeded in resolving fundamental problems faced by consumers and farmers - namely fluctuations in food prices, and land tenure for farmers," President Joko Widodo wrote in the Atlas.
"The 2015 National FSVA is a timely reference for the Government to prioritize its resources in order to comprehensively address crucial food insecurity in the years to come," he added.
"We should all celebrate because Indonesia has achieved the Millennium Development Goal of halving hunger and extreme poverty," said Cousin. "With the Government's commitment, this nation should rise to its next challenge – a food-secure future where every Indonesian man, woman and child will enjoy a healthy, balanced diet."
However, the report notes that inequality, infrastructure, natural disasters and climate change continue to pose challenges to Indonesia's food security. Malnutrition stymies Indonesia's potential, as more than one-third of Indonesia's children under five are stunted – too short for their age - compromising their chances of fulfilling their potential. This figure has not improved since 2010, which will have long-term consequences for the health and wealth of Indonesians says the Atlas. At the same time, a rapidly growing number of adults are overweight or obese, in what nutritionists refer to as the "double burden."
The Indonesian government defines food security as "the condition in which all people, in all households, at all times have sufficient food in both quantity and quality to enable them to live healthy, active, productive and sustainable lives, and that the food is safe, diverse, nutritious, equitably distributed and affordable, and does not conflict with religion, beliefs or culture."
WFP has supported the government in developing the Atlas since 2002. The first edition was launched in 2005.
#                              #                                 #
Notes to editors:
Click here to read the Atlas.
Data for this edition of the Atlas, which ranks food insecurity in 398 rural districts of 32 provinces, was collected over an 18-month period by the Central Food Security Agency, provincial and district Food Security Offices, and from publications of the Central Bureau of Statistics, Ministry of Health, Ministry of Forestry, National Disaster Management Agency, and Meteorology, Climatology and Geophysical Agency.
*The Atlas was made possible through the generous support of the Australian Government's Department of Foreign Affairs and Trade and the Government of Indonesia.
WFP is the world's largest humanitarian agency fighting hunger worldwide, delivering food assistance in emergencies and working with communities to improve nutrition and build resilience. Each year, WFP assists some 80 million people in around 75 countries.
Follow us on Twitter @wfp_media & @wfp_asia
For more information please contact (email address: firstname.lastname@wfp.org):
Frances Kennedy, WFP/Rome, Mob.  +39 346 7600806
Damian Kean, WFP/Bangkok, Mob. +66 81 701 9208
Anthea Webb, WFP/Jakarta, Mob. +62 812 1050880