New Study Reveals Hunger Burden On Lesotho's Economy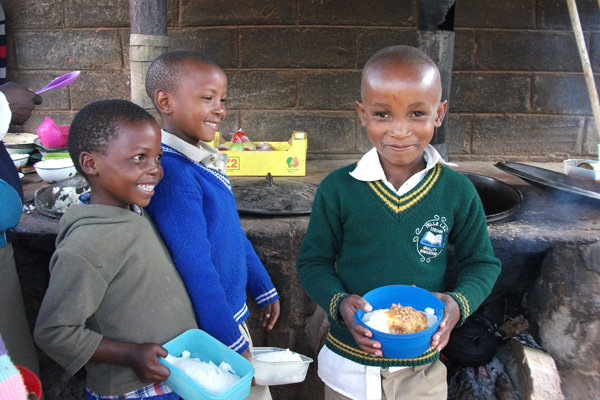 MASERU – Lesotho is losing 1.9 billion Maloti (US$200 million) a year to the effects of child undernutrition, according to a new, country-specific Cost of Hunger in Africa (COHA) study released today. This amounts to more than 7 percent of the country's Gross Domestic Product (GDP). The money is lost through increased healthcare costs, additional burdens on the education system and lower productivity of the workforce.
The study estimates that Lesotho could save 2.86 billion Maloti (US$292 million) by 2025 if the prevalence of underweight in children were reduced from 10% to 5%, and stunting from one-third to one-tenth.  
"Investing in nutrition is a moral and economic imperative," said His Majesty King Letsie III of Lesotho at the launch in Maseru today. "Indeed, as the African Union Nutrition Champion, I consider it my privilege and obligation to lead the fight against malnutrition...I urge all stakeholders present to support Lesotho's ongoing efforts to prioritise nutrition."
The report is being released to coincide with the launch of the country's Food and Nutrition Policy and of the Scaling up Nutrition (SUN) Lesotho movement. This month has been declared Lesotho Nutrition Month and its theme is "First 1,000 Days of Life".
The COHA report comes at a crucial time for Lesotho. Some 709,000 people – more than one in four of the population – are in need of food assistance, according to the 2016 Lesotho Vulnerability Assessment Committee (LVAC) report. Lesotho is suffering from the effects of two years of drought, most recently as a result of El Niño, which has badly affected agricultural and livestock production.
"To reduce stunting in Lesotho calls for strong political commitment, coordination of efforts and continued allocation of adequate resources for the implementation of the national nutrition and other related policies sensitive to nutrition" said Minister of Development Planning Mokoto Hloaele.
•    45 percent of Lesotho's adult population suffered from stunting as children;
•    19.5 percent of all child mortality cases in Lesotho are associated with undernutrition;
•    Child undernutrition costs Lesotho 1.9 billion Maloti, or 7.13 percent of GDP.
A national dialogue on the findings, scheduled for 20 October, will provide an opportunity to discuss how government strategies to eliminate malnutrition can be harmonized and linked to broader global and continental nutrition initiatives.
"Progress towards Africa's Vision 2063, can only be achieved if citizens of the continent are healthy and well-nourished," said Mustapha Sidiki Kaloko, AU Commissioner for the Department of Social Affairs. He further urged the government of Lesotho to use the Cost of Hunger in Africa-Lesotho study results, to inform critical Lesotho's development decisions.
The COHA report is led by the African Union Commission (AUC), in partnership with AU member states and the NEPAD Planning Coordinating Agency (NPCA). It is supported by the United Nations World Food Programme (WFP) and the Economic Commission for Latin America and the Caribbean (ECLAC).
Previous COHA studies have revealed African economies to be losing the equivalent of between 1.9 and 16.5 percent of GDP to child undernutrition. Lesotho is the tenth nation to be studied, after Burkina Faso, Chad, Ghana, Egypt, Ethiopia, Malawi, Rwanda, Swaziland and Uganda. The Democratic Republic of Congo, Mali, Madagascar, Mauritania, Mozambique and Zimbabwe are next in line.  
"Undernutrition is one of the country's biggest development challenges," said Mary Njoroge, WFP Lesotho Country Director and Representative. "The situation could get worse if no immediate response is provided during the drought emergency, which has deprived many vulnerable people of any means of livelihood."
 
For the full report, please click here: Lesotho COHA Report
For more information, please contact:
Masekonyela Sebotsa, Food and Nutrition Coordinating Office, Lesotho, Email: masekonyelasebotsa@yahoo.com
Mary Njoroge, Lesotho WFP Country Director and Representative, Email: mary.njoroge@wfp.org
Janet Byaruhanga, Africa Union Commission, Email: byaruhangaj@africa-union.org
Wanja Kaaria, WFP/Addis Ababa, Email: wanja.kaaria@wfp.org, Tel. +251-11-551-51
David Orr, WFP/Johannesburg, Email: david.orr@wfp.org, Tel. + 27 82 908 1417
Follow us on:
  Twitter @CostHunger, hashtag: #CostOfHungerInAfrica