One Month After Nepal Earthquake, WFP Starts New High-Altitude Relief Operation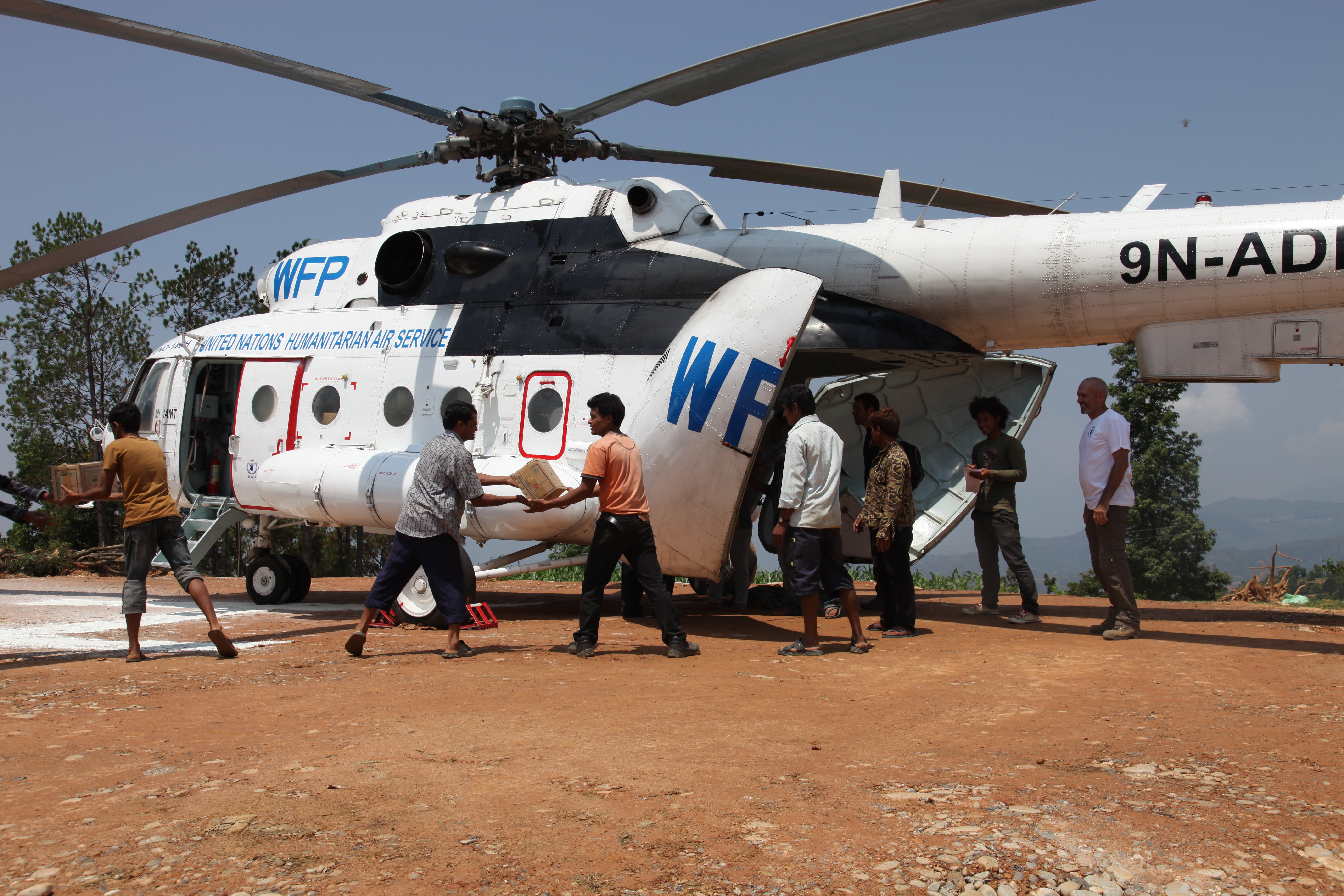 KATHMANDU – In the month since a devastating earthquake hit Nepal, nearly 2 million people have received food assistance from the United Nations World Food Programme (WFP) and a new phase of the response is underway to reach people in high-altitude villages.
•    Since the 25 April quake, WFP has provided food to more than 1.7 million people in the worst-affected areas. The number is on track to increase to 1.9 million in the coming days. Mountainous terrain and landslides made this a very complex operation and WFP is using trucks, tractors and helicopters to deliver to reach people in need.
•    The second phase, known as Operation Mountain Express, is starting to reach people in high-altitude, remote areas. Teams of mountaineers are reaching villages and assessing needs on behalf of WFP and the wider humanitarian response. Up to 20,000 local porters will soon begin bringing aid to these communities. This also gives employment to porters who were out of work because of the drop in tourism.
•    The coming monsoon season in Nepal is adding further urgency to relief operations because heavy rains expected from June will curtail access to remote rural areas.
•    WFP's logistics support for the entire humanitarian response includes a network of logistics hubs, a land supply route from India, a fleet of trucks, and helicopters to reach areas inaccessible by road. WFP also provides emergency telecommunications services for aid organizations.
•    One of the key reasons why WFP was able to reach nearly 2 million people in the first month after the disaster is a relief dispatch hub at Kathmandu's airport known as the Humanitarian Staging Area. Run by WFP and funded by the United Kingdom's Department for International Development, it opened four weeks before the earthquake as part of a larger joint programme of disaster preparedness. This advance planning enabled WFP to be operating immediately after the earthquake.
•    WFP urgently needs funding to sustain this vital and versatile emergency response for survivors of the quake. You can help by making a donation at www.wfp.org/Nepal
#                              #                                 #
WFP is the world's largest humanitarian agency fighting hunger worldwide, delivering food assistance in emergencies and working with communities to improve nutrition and build resilience. Each year, WFP assists some 80 million people in around 75 countries.
Follow us on Twitter @wfp_media  and @wfp_asia
For more information please contact (email address: firstname.lastname@wfp.org):
Zoie Jones, WFP/Kathmandu, Mob. +977 9802 039 678 
Silke Buhr, WFP/ Bangkok, Tel. + 66 2 6598616 ext, 2160 Mob. +66 81 701 9208
Jane Howard, WFP/Rome, Tel. +39 06 65132321, Mob. +39 346 7600521
Elisabeth Byrs, WFP/Geneva, Tel. +41 22 917 8564, Mob. +41 79 473 4570  
Gregory Barrow, WFP/London, Tel.  +44 20 72409001, Mob.  +44 7968 008474
Bettina Luescher, WFP/New York, Tel. +1 646 5566909, Mob. +1 646 8241112
Steve Taravella, WFP/Washington DC, Tel. +1 202 653 1149, Mob. +1 202 770 5993