Princess Haya To Receive WFP Hunger Hero Award In Davos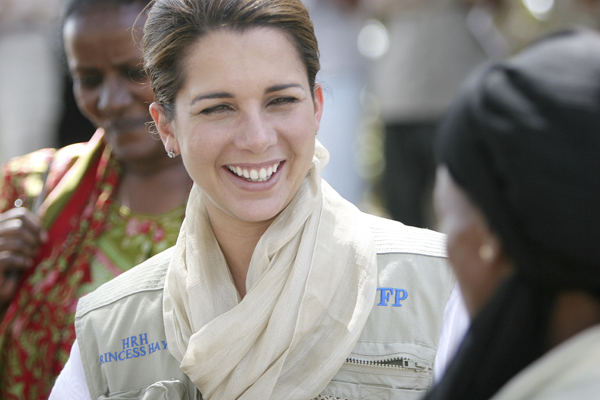 DAVOS – The United Nations World Food Programme (WFP) is honouring Her Royal Highness Princess Haya Al Hussein with the 2015 Hunger Hero Award at the World Leaders Dinner later today at the World Economic Forum annual meeting in Davos, Switzerland.
A former WFP Ambassador Against Hunger, Princess Haya is now a United Nations Messenger of Peace as well as the Chairperson of the International Humanitarian City (IHC) in Dubai. The IHC is the world's largest logistics centre for aid distribution and is used by WFP and eight other United Nations agencies and dozens of NGOs. During her time as a WFP ambassador, Princess Haya visited WFP operations in many countries, including Malawi, Syria and Cambodia.
To address hunger in her native country of Jordan, Her Royal Highness created the first food assistance NGO in the Middle East—Tikiyet Um Ali (TUA). She expanded it so every Jordanian family that cannot afford to pay for food now receives a generous monthly ration. Even in the last few years, at a time when Jordan faces increased challenges providing refuge for people from Syria and Iraq, the number of recipients reached has tripled. TUA also played a prominent role in feeding Gazan families during the conflict in 2014.
 
In her role as United Nations Messenger of Peace, Princess Haya has worked hard to raise attention for the Millennium Development Goals, especially with regard to hunger. She supported UN operations in Pakistan, Afghanistan, Gaza and sub-Saharan Africa through numerous field visits, fundraising and publicity.
"Princess Haya's steadfast support for our expanded capacity and operations out of Dubai as well as her advocacy for the people we serve throughout the world are greatly appreciated," says WFP Executive Director Ertharin Cousin. "She is a true champion of WFP's mission, and I look forward to continuing our work together in the future."
The award ceremony will take place during a dinner event and panel discussion on Empowered Women and Innovation at the WFP tent. Read more about WFP's involvement at the World Economic Forum's annual meeting at www.wfp.org/davos.
#                              #                                 #
About the World Food Programme
WFP is the world's largest humanitarian agency fighting hunger worldwide, delivering food assistance in emergencies and working with communities to improve nutrition and build resilience. Each year, WFP assists some 80 million people in around 75 countries.
About Her Royal Highness Princess Haya Al Hussein
HRH Princess Haya Bint Al Hussein is a devoted wife, mother and global humanitarian as well as a former Olympic athlete. She is the daughter of HM Late King Hussein Bin Talal of Jordan and the wife of HH Sheikh Mohammad Bin Rashid Al Maktoum, VP and PM of the United Arab Emirates and the ruler of Dubai.
Follow us on Twitter @wfp_media | @wfp
For more information please contact (email address: firstname.lastname@wfp.org):
Tyler Guthrie, WFP/Davos, Mob. +39 348 024 4246
Emilia Casella, WFP/Rome, Tel. +39 06 6513 3854, Mob. +39 347 9450634
Abeer Etefa, WFP/Cairo, Mob. +2010 666 34352
Elisabeth Byrs, WFP/Geneva, Tel. +41 22 917 8564, Mob. +41 79 473 4570
Gregory Barrow, WFP/London, Tel.  +44 20 72409001, Mob.  +44 7968 008474
Bettina Luescher, WFP/New York, Tel. +1-646-5566909, Mob.  +1-646-8241112