Qatar Charity And WFP Join Forces To Engage The Private Sector In The Fight Against Hunger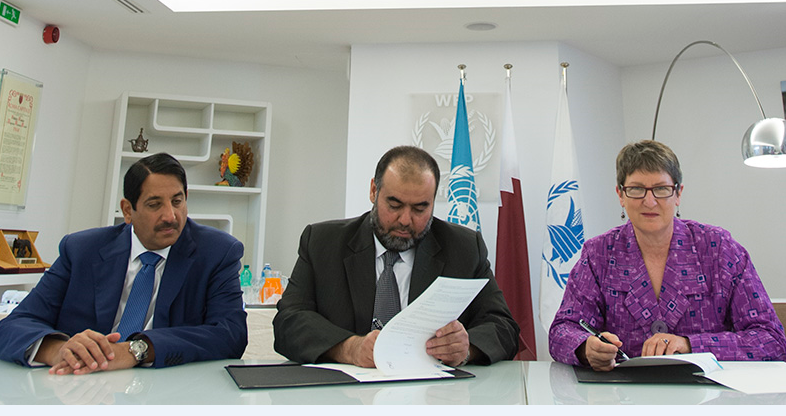 ROME and DOHA – Qatar Charity, Qatar's largest NGO, and the United Nations World Food Programme (WFP) have signed a partnership agreement that will allow Qatar-based companies and individuals to support WFP in building a world with zero hunger.
WFP is recognized as a global leader in the area of corporate partnerships with a history of helping companies express their corporate social responsibility through initiatives that benefit communities in need and achieve a measurable, positive impact. 
"Our two fine organizations have worked together in the past to serve those most at-risk throughout the world but this new partnership agreement will take even further our shared missions to give hope by responding to the needs of others in the most dignified ways possible," stated His Excellency Yousef bin Ahmed Al-Kuwari, CEO, Qatar Charity.
Through this agreement, Qatar Charity will facilitate the official authorization of initiatives led by local companies and branches of multinationals operating in Qatar that seek to support WFP's food assistance programmes in the Middle East and around the world, including cash contributions and fundraising and advocacy campaigns and events. 
"Qatar Charity and WFP share the vision of a world where all children, women and men get the food they need to lead a healthy and active life and pursue their dreams," said WFP Representative and Director of Gulf Office Abdallah Al-Wardat. "This strategic partnership opens the door to Qatari businesses who understand that fighting child hunger and malnutrition is key to their commercial success and the stability of our nations as much as it is a moral duty."
By investing in hunger solutions, companies can help people in developing countries increase lifetime earnings by up to 46 percent, workforces increase productivity by 20 percent and countries boost GDP, or gross domestic product, by up to 16.5 percent, according to recent studies. 
"Hunger jeopardizes the economic potential of a country and often leads to civil unrest, undermining peace and stability around the world. It harms the minds and bodies of our world's future generations," Al-Wardat added. "By helping fight hunger during emergencies and investing in food security in the long term, companies help build stronger communities that are more resilient to poverty, conflicts and natural disasters, while also serving their own business interests."
WFP works around the world, including in the Middle East where staff are delivering emergency food assistance to millions of people affected by the conflicts in Syria, Yemen and Iraq, notably through the distribution of food vouchers. WFP is also providing school meals to more than 2 million underprivileged children in Palestine, Jordan, Egypt, Iraq, Sudan and Yemen, improving both their health and their chances of receiving a formal education. 
#                              #                                 #
About Qatar Charity:
Qatar Charity is a leading Gulf-origin nongovernmental organization dedicated to carrying out humanitarian and development programs to fight global poverty by working in partnership with vulnerable communities regardless of faith, race, gender or political beliefs. Registered in 1992, Qatar Charity has active field offices in twenty countries and works in an additional sixty countries through its like-minded partners.
Qatar Charity's work gives hope and enables communities to survive, recover and rebuild. It helps people regain and maintain their dignity while empowering them to become self-sufficient through practical knowledge, focused expertise and innovative solutions in the following areas of intervention: economic empowerment; education and cultural development; emergency preparedness, response and recovery; food security, health and nutrition; social welfare; and water, sanitation and hygiene.
For more information, visit www.qcharity.com or contact:
•    Awadalla Gubara Ahmed
Mobile: ++974-5562 0214
E-Mail: aahmed@qcharity.org 
About WFP:
The United Nations World Food Programme (WFP) is the world's largest humanitarian agency fighting hunger worldwide, delivering food assistance in emergencies and working with communities to improve nutrition and build resilience. Each year, WFP assists some 80 million people in around 75 countries. 
For more information, visit wfp.org, follow @wfp_media and @wfp_mena on Twitter, or contact:
Tyler Guthrie, WFP/Headquarters in Rome, Tel. +39 06 6513 3873 – Email: tyler.guthrie@wfp.org 
Reem Nada, WFP/Regional Bureau in Cairo, Tel. +202 25281730 – Email: reem.nada@wfp.org