From recipient to donor: Republic of Korea makes its largest ever contribution to WFP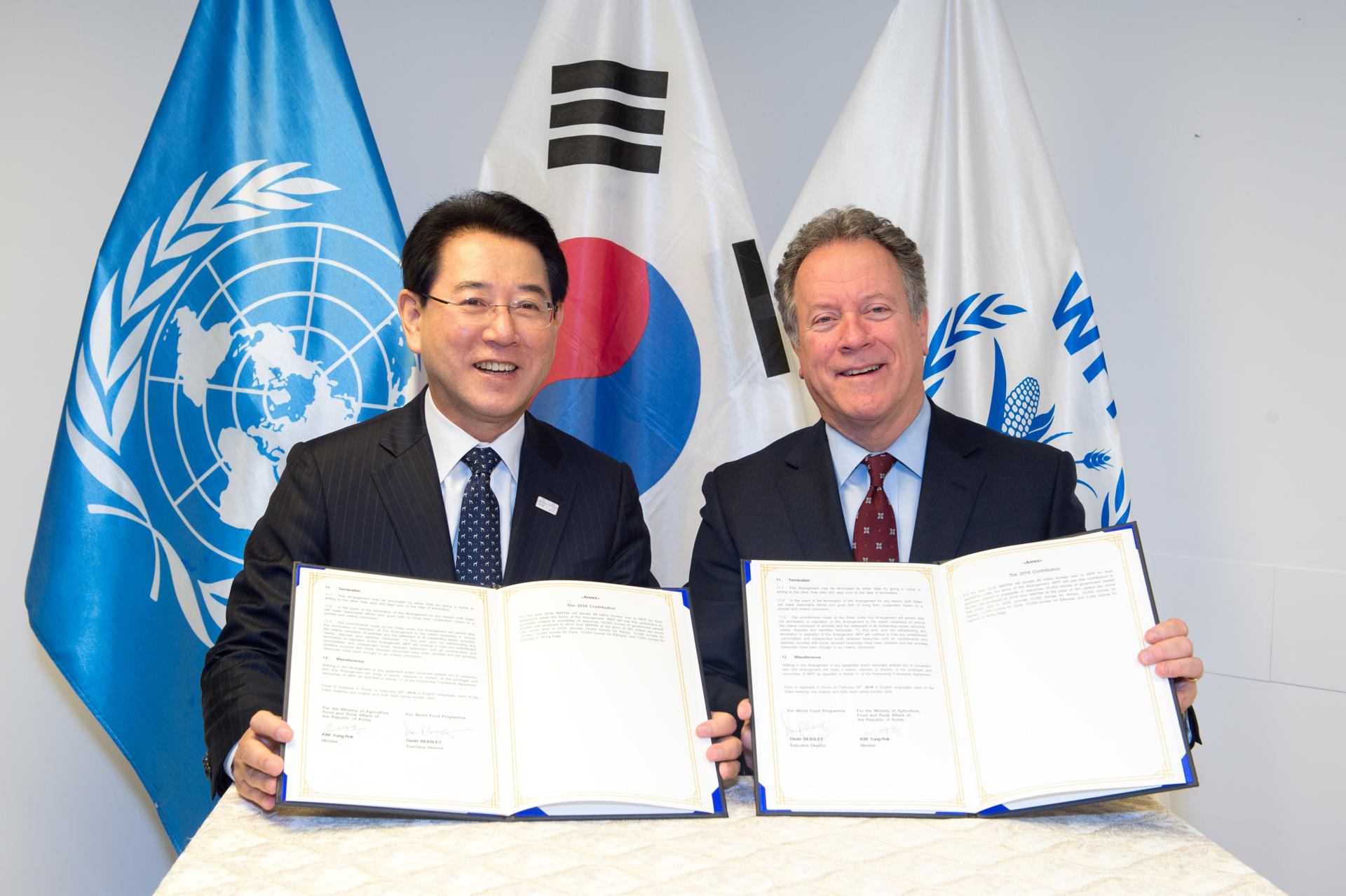 ROME – Continuing its impressive progression from one-time recipient to major donor, the Government of the Republic of Korea today made a historic KRW 46 billion (US$42.5 million) contribution to the United Nations World Food Programme (WFP), its largest contribution to date. WFP will use the funds to purchase 50,000 metric tons of Korean rice and provide life-saving food assistance in Syria, Yemen, Kenya, Ethiopia and Uganda.
"This is what we dream of," said David Beasley, WFP Executive Director. "A country that used to rely on WFP now stands as one of our strongest allies in saving lives – it's an exceptional example of what we all strive for at the World Food Programme."
The contribution arrangement was signed by David Beasley and the country's Minister of Agriculture, Food and Rural Affairs Kim Yong-Rok on the margins of the WFP Executive Board session today in Rome. Following today's arrangement, the government will finalize local procedures for rice processing and packaging with an aim to have the rice distributed to five country recipients in the second half of 2018.
"Korea has sought to give back to the international community for all that it has received" said Mr. Kim Yong-Rok, Republic of Korea Minister of Agriculture, Food and Rural Affairs in his address to the Executive Board. Mr. Kim Yong-Rok confirmed that the country planned to "participate more proactively in efforts by the international community to combat hunger".
From 1964 to 1984, WFP supported the Republic of Korea's socioeconomic development through a range of projects on food assistance, nutrition, flood control and road construction. The sum of these projects represented the largest expenditure of any UN agency in the country over that time period. Today South Korea stands as a committed supporter of WFP, consistently ranking among the organization's top 20 donors.
The arrangement is the first contribution made by South Korea since the country's accession to the Food Assistance Convention last month. 
Later this year, WFP and the Republic of Korea will mark the fiftieth anniversary of their basic partnership agreement, which was signed in May 1968.
#                              #                                 #
WFP is the world's largest humanitarian agency fighting hunger worldwide, delivering food assistance in emergencies and working with communities to improve nutrition and build resilience. Each year, WFP assists some 80 million people in around 80 countries.
Follow us on Twitter @WFP_Media @WFPGovts
For more information please contact (email address: firstname.lastname@wfp.org):
JongChul Park, WFP/Seoul, Tel. +82-2-722-7395, Mob. +82-10-3408-3062
Jane Howard, WFP/Rome, Tel. +39 06 65132321, Mob. +39 346 7600521