Record German Funding To WFP Delivers Lifeline To Syrians, Boosts Global Zero Hunger Efforts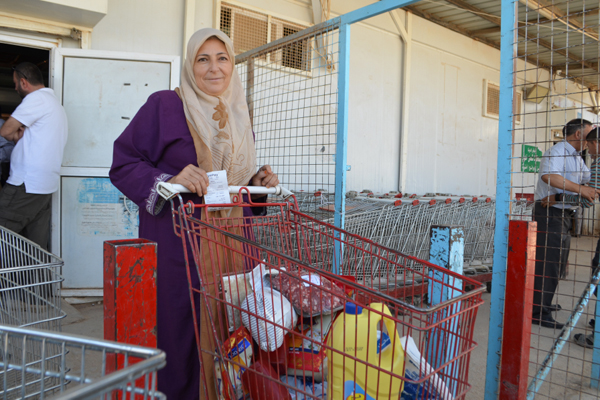 BERLIN – Germany's support for the United Nations World Food Programme (WFP) reached an all-time record in 2016 of €791.5 million.
Of this amount, the largest single contribution ever to a WFP operation – €570 million – went to Syria and neighbouring countries, helping to restore food assistance to nearly six million of the most vulnerable people in this region last year.  
In addition, the German Government boosted WFP preparedness, resilience, nutrition and innovation programmes through increased multi-year investments.
"As a key partner for WFP, Germany is providing support to millions of hungry people worldwide," said WFP Executive Director Ertharin Cousin, during a visit to Berlin.
"Whether to families affected by the Syrian crisis, in drought-stricken southern Africa, or across Yemen and Ethiopia, Germany's generosity provides not only food assistance but is an opportunity to make hunger a thing of the past," she said.
"For those affected by the Syrian crisis, German support has been instrumental in providing a lifeline and support to millions in their home region. On behalf of all children and families receiving this vital assistance throughout the world, I want to graciously thank the Government and the people of Germany."  
During meetings with German government representatives, Cousin will highlight the impact of Germany's unprecedented support to WFP in helping to save millions of lives as well as working towards a world of Zero Hunger by 2030, set by Sustainable Development Goal 2. Additionally, Cousin will honour Foreign Minister Frank-Walter Steinmeier and Minister of Economic Cooperation and Development Gerd Müller with annual WFP Hunger Hero Awards, in recognition of their exemplary commitment to eradicate hunger in our lifetime.
Germany's historic contribution of €570 million for WFP operations in Syria and the region allowed WFP to fully reinstate food assistance for more than four million people in Syria and provide electronic vouchers for 1.6 million refugees in neighbouring countries.
In addition, funding from the German Foreign Office helped WFP to deliver food via airdrops, airlifts and cross-border deliveries to hundreds of thousands of people besieged in cities and communities across Syria.
In Jordan and Lebanon, WFP programmes funded by the German Ministry for Economic Cooperation and Development (BMZ) supported 35,000 Syrian refugees and vulnerable host families to improve farming infrastructure, transfer skills from refugees to host communities, and establish healthy kitchens for school meals.
In times of multiple crises and growing needs, Germany's investment in WFP Resilience, Nutrition, and Disaster Preparedness reaffirmed the government's commitment to respond quickly while simultaneously working to eliminate the root causes of hunger. WFP operations funded by Germany in countries such as Haiti, Malawi and Myanmar are improving community resilience and the capacity to deal with crises before they become catastrophes.
In 2016, innovation became another key facet of this partnership, with the launch in Munich of the WFP Innovation Accelerator, funded by the German Foreign Office, BMZ and the Federal State of Bavaria. The Innovation Accelerator enables WFP and partners to develop innovative and efficient solutions to new challenges in humanitarian assistance.
#                              #                                 #
Video: Broadcast-quality footage from Syria and the region (including shot list) is available for download here.
WFP is the world's largest humanitarian agency fighting hunger worldwide, delivering food assistance in emergencies and working with communities to improve nutrition and build resilience. Each year, WFP assists some 80 million people in around 80 countries.
Follow us on Twitter @wfp_media  
For more information please contact:
Maria Smentek, WFP/Berlin, Tel. +49 206 149 29, Mob. +49 172 345 7184
Jane Howard, WFP/Rome, Tel. +39 06 65132321, Mob. +39 346 7600521
Abeer Etefa, WFP/Cairo, Mob. +201 066634352
Bettina Luescher, WFP/Geneva, Tel. +41 22 917 8564, Mob. + 41-79-842-8057
Gerald Bourke, WFP/New York, Tel. +1-646-5566909, Mob.  +1-646 525 9982