Russia & WFP Seal Partnership To End Hunger; Kamaz Trucks Rolled Out In Red Square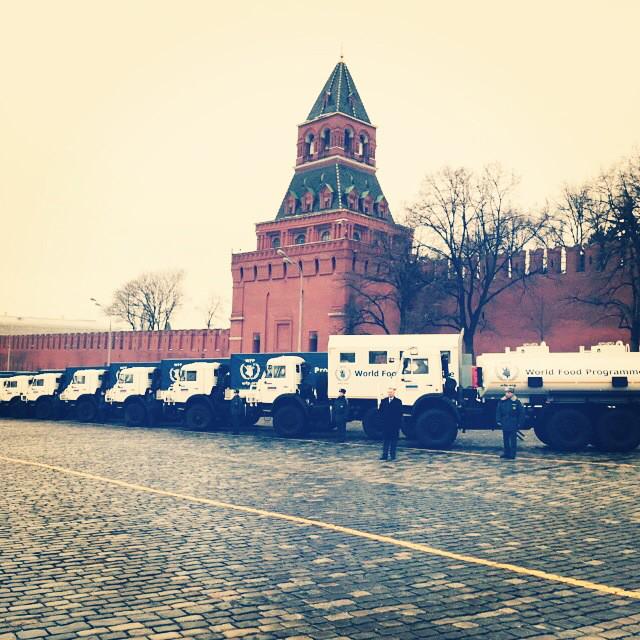 MOSCOW – Recognising a solid and growing relationship, the United Nations World Food Programme (WFP) and the government of the Russian Federation today signed an important strategic partnership agreement that will spearhead joint efforts on many fronts to end global hunger and malnutrition.
Russia is among WFP's top 20 donors, contributing more than US$60 million this year alone.  The financial contribution, supported by in-kind donations and expertise, assists WFP's global response to multiple emergencies, notably for the Syria operation, as well as other locations in the Middle East and Africa and in the CIS countries.   Meetings were held today with high-ranking officials from the three key line ministries of Foreign Affairs, Finance and Emergencies to discuss future humanitarian efforts.  
"Hungry people around the world will benefit from the expanding, reliable and innovative investments by the Russian government to WFP programmes," said WFP Executive Director Ertharin Cousin, after officially signing the partnership agreement with Russian Federation Foreign Minister Sergey Lavrov.   
One of the highlights of Cousin's first visit to Russia, was the ceremonial handover, on Red Square, of 15 KAMAZ trucks.  The Ministry of Finance has donated a total 218 trucks, provided to WFP with the support of the Ministry of Emergencies. Many of the KAMAZ trucks have already been delivering life-saving assistance in the "deep field" to millions of people whose access to food has been cut off by conflict or disaster.  The trucks are equipped with GLONASS navigation system and they are especially suitable for reaching remote areas in countries ranging from Afghanistan to the Central African Republic.    
WFP and Russia have already demonstrated a strong partnership in school feeding not only in neighbouring Armenia, Kyrgyzstan and Tajikistan, but also in Jordan, Tunisia and Morocco - where school meals foster education and bring long-term benefits for poor communities. Russia is considering expanding its support for school feeding in other countries.
During the talks, another aspect of collaboration was discussed including the possible stand-by partnership with the Ministry of Emergencies.  This envisages a direct provision of assets and services to assist WFP's emergency work in hotspots.   
#                              #                                 #
WFP is the world's largest humanitarian agency fighting hunger worldwide, delivering food assistance in emergencies and working with communities to improve nutrition and build resilience. In 2013, WFP assisted more than 80 million people in 75 countries.
Follow us on Twitter @wfp_media
For more information please contact (email address: firstname.lastname@wfp.org):
Caroline Hurford, WFP/Rome, Tel. +39 348 132 5018
Emilia Casella, WFP/Rome, Tel. +39 06 6513 3854, Mob. +39 347 9450634
Elisabeth Byrs, WFP/Geneva, Tel. +41 22 917 8564, Mob. +41 79 473 4570
Gregory Barrow, WFP/London, Tel.  +44 20 72409001, Mob.  +44 7968 008474
Bettina Luescher, WFP/New York, Tel. +1-646-5566909, Mob.  +1-646-8241112