Ecuador: Families Access Nutritious Foods From Small Farmer Associations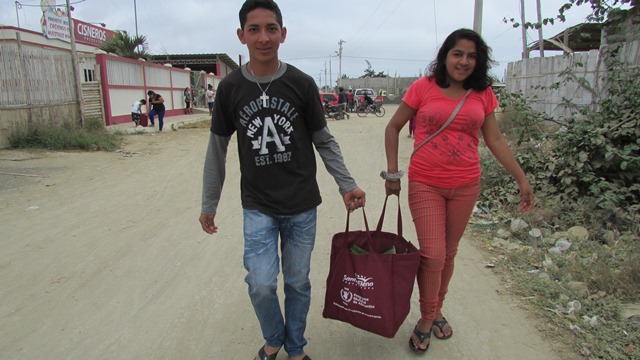 Four hundred families from the Santa Elena Province are improving their diets by incorporating nutritious foods produced by small farmer associations, thanks to an initiative of the Decentralized Autonomous Government of the Santa Elena Province in partnership with World Food Programme (WFP).
SAN ANTONIO, Santa Elena – The project targets 400 families living in extreme poverty who have children aged 6 to 36 months with critical levels of malnutrition. This age group is particularly important, as optimal nutrition is critical for human development. "Strengthening Local Capacities in Food and Nutrition Security'' project officially initiated in September, allowing families to receive a monthly WFP voucher redeemable for nutritious foods provided by the small farmer associations.
The province of Santa Elena, with WFP assistance, established a point of sale for families to redeem their vouchers; a mobile food truck also is provided for families in isolated communities. The project's objective is to improve the diets of the participating families by incorporating fruits and vegetables, while stimulating local production of nutritious foods, thus creating a more secure market for small producers.  As part of the project, participating families will attend monthly training workshops in nutrition, food security and other subjects.
While malnutrition is related to poverty and the ability of each family to have access to food, it is also closely linked to the lack of nutrition education. Therefore, WFP trainings help families to understand the value of nutritious foods in diets, including the micronutrients necessary for proper development, especially in the case of children.
Additionally, malnutrition is closely related to the situation of women. Many of them suffer from domestic violence, discrimination, and exclusion from decision-making processes. The challenge is to provide better nutrition education, empower women and reduce gender violence. WFP promotes these actions in Santa Elena province, as well as in all its programmes in Ecuador.
The project's opening ceremony was held in the town of San Antonio was hosted by the Vice Prefect of Santa Elena, Joffre Villao, and WFP Representative in Ecuador, Deborah Hines. Local authorities, representatives from the private sector and beneficiary families attended the ceremony and a fair presented by one of the associations participating in the project, the Manglaralto Agricultural Workers Association.  Private partners contributing to the project include General Electric, Pepsi and Lift a Life Foundation.