WFP Executive Director Visits Food Assistance Operation in Syria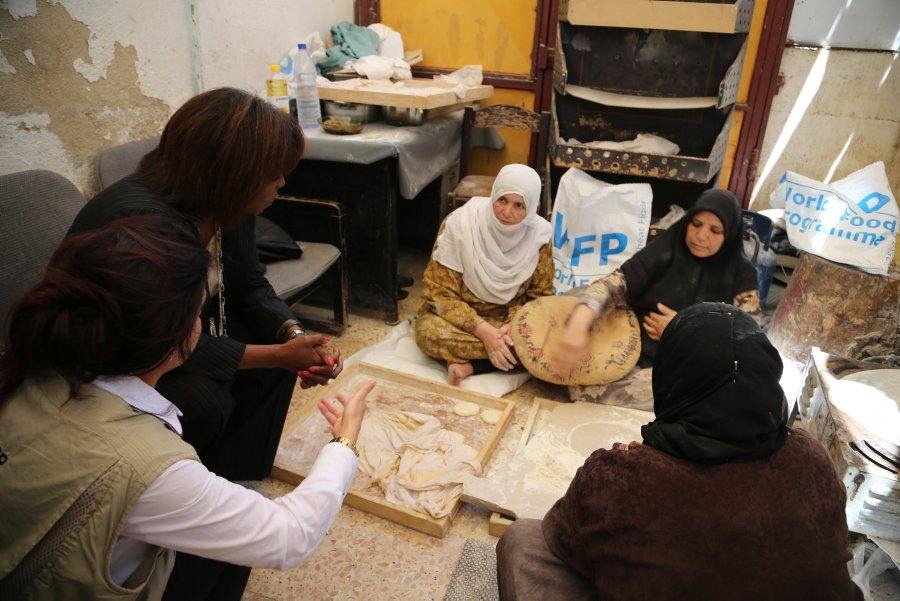 DAMASCUS – The Executive Director of the United Nations World Food Programme, Ertharin Cousin, wrapped up a one-day visit to Damascus on Tuesday where she met with WFP staff, senior government officials and visited a WFP food distribution to oversee progress and discuss the operational challenges of one of the agency's largest and most complex humanitarian operations worldwide.
In the last few weeks, WFP has made significant progress in Syria, reaching more people in besieged and difficult-to-reach areas thanks to improved access through cross-line and cross-border food deliveries. More than 300,000 people in besieged and hard-to-reach areas received WFP food through cross-line convoys in July – double the number of people reached using cross-line convoys in June.
However, security challenges continue to hinder WFP's ability to deliver food to all of the people who need food assistance. "We need to use all possible ways to get food to hungry families all over Syria. Some areas are only accessible through cross-line convoys from inside the country and other areas can only be served through cross-border convoys," said Cousin.
In the last few days, the already struggling northeast of Syria has started receiving an influx of people fleeing the violence in the Sinjar Mountain area of Iraq into the neighbouring governorate of Al Hasakeh in Syria. They are arriving tired, hungry and thirsty – many having lost family members along the way. They transit for few days in Syria until they are able to cross back to safer areas in the Kurdistan region of Iraq. WFP has started distribution of ready-to-eat food to more than 3,000 people and plans to airlift more food to cover the urgent and rising needs.
"We are facing today another humanitarian tragedy with displaced families fleeing their homes and arriving to an area in Syria where its population is already suffering a war and a drought. It is an area that is very difficult to reach, as all supply routes to Al Hasakeh have been inaccessible for some time," said Cousin.
WFP has been operating daily emergency airlifts from Damascus to Al-Hasakeh since 21 July to feed over 50,000 displaced Syrians, cut off from humanitarian aid. So far, WFP has flown 23 rounds of airlifts, carrying over 500 metric tons of food for the displaced Syrians as part of the regular monthly food distribution. WFP will also continue to airlift ready-to-eat food rations for the next few days, for the people fleeing Mount Sinjar in Iraq.
In Damascus, Cousin visited a WFP food distribution where she met with families -- mainly widows dressed in black receiving their monthly food rations, as well as displaced women volunteering with an NGO partner to bake WFP wheat flour into bread for distribution to urban families who are unable to bake their own. As Cousin visited the bakery, the women invited her to try their bread and told her their stories. They said that they were displaced from Daraya in rural Damascus – a hot spot area – and they feel that they are making a difference by helping other families.
WFP strives to reach 4.25 million people with food assistance every month in Syria and requires about US$35 million every week to meet the food needs of people affected by the conflict in Syria.
High-resolution photos can be downloaded at the following link.
Credit Photo: WFP/Abeer Etefa
https://www.hightail.com/download/ZUcwY05uTWN0TWx4Tk1UQw
#                              #                                 #
WFP is the world's largest humanitarian agency fighting hunger worldwide, delivering food in emergencies and working with communities to build resilience. In 2013, WFP assisted more than 80 million people in 75 countries.
Follow us on Twitter @wfp_media and @wfp_mena
For more information please contact (email address: firstname.lastname@wfp.org):
Abeer Etefa, WFP/Damascus, Tel. +2010 66634342
Dina Elkassaby, WFP/ Amman, Tel. +962 798674638
Emilia Casella, WFP/Rome, Tel. +39 06 6513 3854, Mob. +39 347 9450634
Gregory Barrow, WFP/London,  Mob.  +44 7968 008474
Steve Taravella, WFP/Washington DC, Tel. +1 202 653 1149, Mob. +1 202 770 5993